First Look at Mark Wahlberg in Michael Bay's Pain & Gain: Pain or Gain?
While filming Michael Bay's next non-Transformers pic Pain & Gain, based on the bizarre, freaky real life story of a band of Florida bodybuilders who committed a heinous series of crimes in the '90s, star Mark Wahlberg put on quite the show for peeping photographers. Clad in workout gear and some very short shorts, he gave us quite the memorable first look at the modest little $20 million black comedy, as you can see after the jump.

Candid photos caught Wahlberg in character as Daniel Lugo, the real life manager of the Sun Gym in the Miami suburbs at the center of the extortion and kidnapping plot chronicled in a 1999 Miami New Times article by Pete Collins. (Collins' article served as the basis for Pain & Gain and is a fascinating read.) Also onboard for the film, due in theaters in 2013: Dwayne Johnson, Ed Harris, Anthony Mackie, Tony Shalhoub, Rob Corddry, and Rebel Wilson.
On this particular day Wahlberg was running and doing weird sit-ups for the cameras, which led to shots like this, which gives us a look at either Wahlberg's Lugo rage face or his beefy workout face.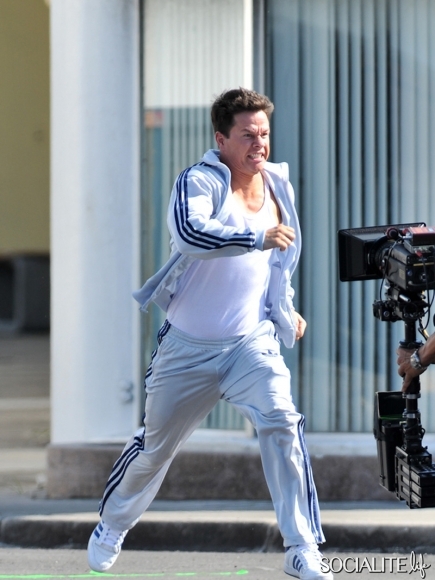 And of course, this gem for the ages: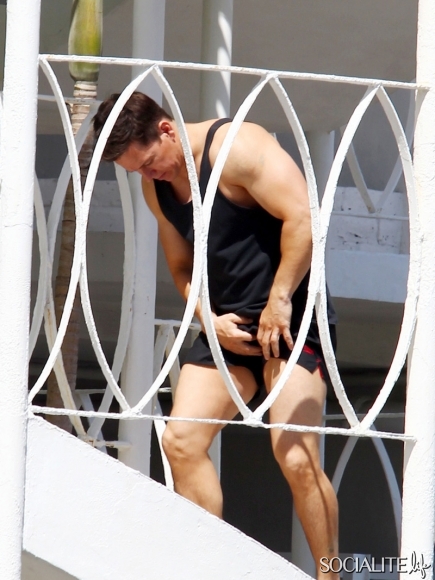 You decide: Pain or Gain?
[Socialite Life via Slashfilm]