Write a Mirror Mirror Haiku, Win Dinner and a Movie for Four (UPDATED)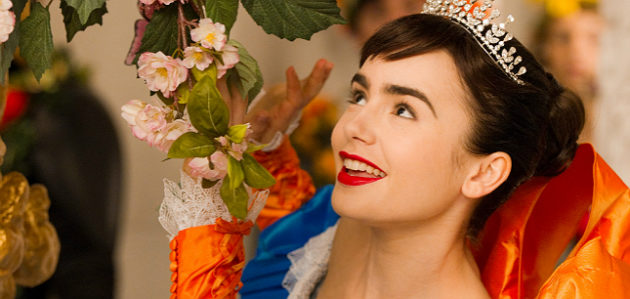 Here at Movieline readers have to work for their hard-earned prizes, but today we have a haiku contest that should also engage your inner child and tap into the most whimsical, fantastical depths of your imagination: Write an original haiku inspired by this weekend's colorful and witty Snow White retelling Mirror Mirror -- a movie featuring heroines in swan dresses and people wearing boats as hats! -- and you could win dinner and a movie for four! UPDATED: See the winning entry below!

The family-friendly fairytale from director Tarsem Singh (The Cell, The Fall, Immortals) stars Lily Collins as Snow White, a princess living under the thumb of her power-hungry stepmother the Queen (Julia Roberts). When a dashing prince arrives in the kingdom, Snow White is sent to her death but finds refuge with a band of diminutive bandits, becoming a bandit princess and a champion for the people. Stay for the credits or you'll miss the Bollywood dance number!
So: The contest! Take inspiration from Tarsem's vivid, bold fairytale (Click for a gallery of Mirror Mirror's fantastic designs and costumes) and compose an original haiku. You know the drill -- use the 5-7-5 syllable format to write a clever ditty about Mirror Mirror that captures the spirit of the modern-tinged Snow White retelling. (Hint: That iconic line "Mirror, mirror, on the wall... who's the fairest of them all?" breaks up quite nicely into seven syllable-segments. I'm just saying.)
What's at stake in this contest for the ages? Behold the grand prize, courtesy of Relativity:
(1) "Kids' Night Out" dinner and movie package, which includes a $100 Gift Card to Red Robin and $60 worth of Fandango bucks, enough for 4 people to enjoy!
Dinner and a movie for the whole family? What a steal. Get to writing, already!
Entries must be received along with your name and an email address where you can be reached. You may enter in the comment section below or on Movieline's Facebook or Twitter pages. Contest ends Monday, April 2 at 2:00 p.m. PT/5:00 p.m. ET.
U.S. entrants only. One submission per person.
--
UPDATE 4/2: The contest is now closed. Thanks to all who played! After much deliberation we've chosen the winner of our Mirror Mirror haiku contest, a vivid little ditty submitted by Addison Kuhn:
Eyebrows and bee stings
Tarsem gives this old tale wings
BONUS! Collins sings
A round of applause for Addison's lovely entry! Spend that Fandango cash wisely, my friend.