In the Trayvon Martin Aftermath, How Soon Is Too Soon for Neighborhood Watch?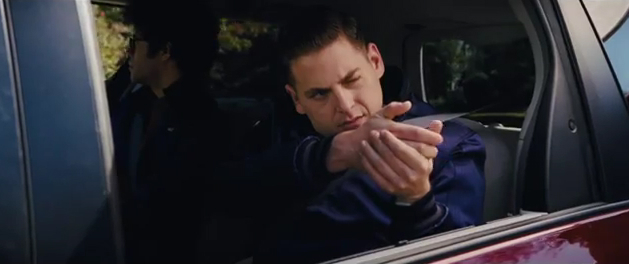 High five to Fox for pulling their bullet-ridden Neighborhood Watch marketing materials from Florida theaters this week following the February killing of Trayvon Martin. Trying to get as much distance as possible from the teaser's emphasis on grown men Ben Stiller, Vince Vaughn, Jonah Hill, and Richard Ayoade stalking and finger-shooting suburban kids is a good idea and a sensitive move -- not to mention a no-brainer necessity, PR-wise -- so the studio's forthcoming campaign will likely focus on the film's "broad alien-invasion comedy" elements. But even four months from now, will it be too soon for Neighborhood Watch to make fun escapism out of vigilante violence?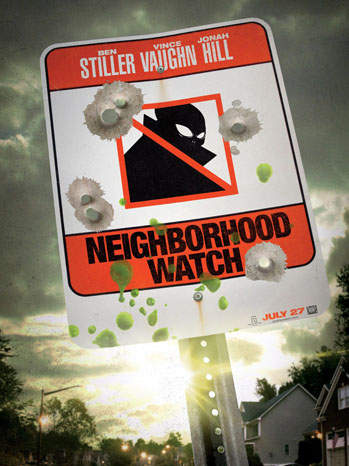 A Fox representative explained the studio's decision to THR:
"We are very sensitive to the Trayvon Martin case, but our film is a broad alien-invasion comedy and bears absolutely no relation to the tragic events in Florida," a Fox spokesperson tells THR. "The movie, which is not scheduled for release for several months, was made and these initial marketing materials were released before this incident ever came to light. The teaser materials were part of an early phase of our marketing and were never planned for long-term use. Above all else, our thoughts go out to the families touched by this terrible event."
Extending that retraction on a wider scale might even be in order, seeing as the media firestorm over Martin and his shooter, George Zimmerman, is now a national conversation and not just one for Floridians. Which brings us to the big question: Is the Trayvon Martin case too big, too incendiary, or just too heartbreaking for Neighborhood Watch to come out as planned, and perform well, in four months' time?
What's in the teaser trailer may be an indication of the problem here: Whether or not it's revealed in marketing materials, the film seems to glorify the kind of volunteer policing that Martin shooter Zimmerman was a part of in real life. The sounds of Dr. Dre's "Still D.R.E." underscore the comically grandiose slow-motion crawl of the Neighborhood Watch gang -- they're lazy suburbanites using a self-important Neighborhood Watch front to get away from their families, but once the aliens invade they'll become true-blue heroes. (Since I haven't seen the film, I'm only guessing here -- maybe it'll turn out that the aliens were only visiting peaceably, their presence horribly misunderstood by overzealous would-be heroes, who resolve their differences with nonviolence.)
That setup would be fairly harmless if it didn't tap directly into the debate over what really happened on February 26 in Sanford, FL. Zimmerman was an active Neighborhood Watch captain in his gated community who, by many accounts, took citizen policing very seriously; following Martin as a suspicious person on the day of the incident led to the unarmed 17-year-old's fatal shooting, which Zimmerman claimed was an act of self-defense.
Neighborhood Watch, penned by Seth Rogen, Evan Goldberg, and Jared Stern as a "hard R" and directed by Lonely Island's Akiva Schaffer, is still on Fox's schedule for a July 27 wide release. According to the THR report, the studio doesn't plan on pushing back the debut, despite the ongoing furor over the Martin case. I'd like to think that Martin's death will be resolved but not forgotten by then, if only to give his family and all who've become invested in the case some closure, but I'm skeptical that four months -- or five, or a year, or any measure of time -- will be long enough that I won't be thinking of George Zimmerman while watching Ben Stiller blow away the aliens who darken his doorstep.
Follow Jen Yamato on Twitter.
Follow Movieline on Twitter.