Horror Games: See Jennifer Lawrence in First Peek at House at the End of the Street
Because Jennifer Lawrence's StarMeter is sky-high during this glorious Hunger Games weekend, why not take a look at her next venture, the indie horror pic House at the End of the Street? Katniss Everdeen this ain't; JLawr (JenLaw? JLa? Did we ever figure this one out?) stars as a teenager who befriends a new neighbor (Max Thieriot) whose family was murdered years ago. In the first image from the pic, a tank topped Lawrence discovers something mysterious and, from the look on her face, probably horrifying. Where's that bow and arrow when you really need it...?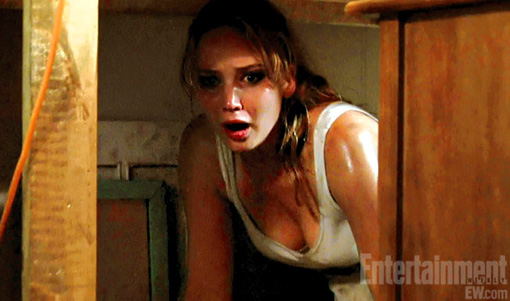 EW has the exclusive scoop on what exactly Lawrence is up to in the pic, from director Mark Tonderai (Hush):
"She's basically managed to get into Max's house, waiting for his character, and she's made a discovery there about his family and is trying to hide before her presence is detected," he says.

Thieriot plays a 21-year-old who lingers in the house against the wishes of the other neighbors, who would rather forget both him and his family's horrific history. "Since he lives in this house and is driving down people's home values, he's very ostracized in this town," Tonderai says. "The murder was committed by his sister, and she disappeared into the woods. There's this rumor she still lives in the woods. People have seen her, and she's insane. But is she out in the woods? And if she is, how does she feel about her brother getting involved with somebody else?"
(Read more at EW.)
Elisabeth Shue co-stars as Lawrence's mother; Relativity will release House at the End of the Street on September 21.
• Jennifer Lawrence moves in beside 'House at the End of the Street' -- FIRST LOOK [EW]