On SXSW Surprise Starlet, Its Racy Hardcore Scenes, and Newcomer Dree Hemingway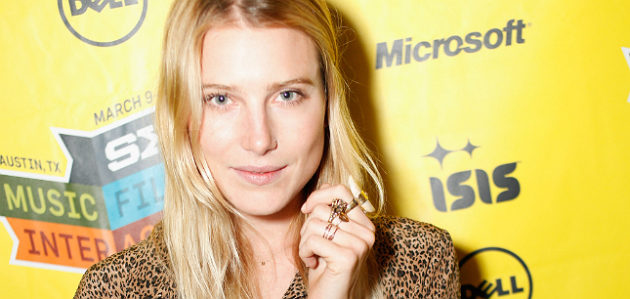 SXSW 2012 marked the starring screen debut of model-turned-actress Dree Hemingway – daughter of Mariel, great-granddaughter of Ernest, and at 24, a veteran of the fashion world -- as an airy Los Angeleno named Jane who befriends a cranky senior citizen (85-year-old newcomer Besedka Johnson) in Sean Baker's Starlet, a surprisingly sweet tale comprised of a series of moving, naturalistic episodes … and one infamous hardcore sex scene. But as much as Starlet is a fantastically observed introduction to Hemingway, who possesses Evan Rachel Wood's preternatural poise and Daryl Hannah's leggy looks, sitting down with her in Austin – and indulging in a post-interview round of karaoke together -- offered greater insights into one of the more talked-about but hard-to-talk-about films of the fest.

For starters: Movieline learned that Hemingway does a mean Pat Benatar. But not everything comes as easy as belting out the power warble of "We Belong" in an afternoon karaoke session with someone you've only just met; from Starlet's hardcore sex scene (shot with professionals) to its likely NC-17 rating to the tricky task of discussing it without divulging too much, Hemingway and director Baker (Prince of Broadway) have tangled with a number of challenges on the road to getting their film, which also stars Stella Maeve and James Ransone, out into the world.
That said, Starlet is a film whose secrets are minor but impactful in the grand scheme of things, at least in how they inform their two central characters. Hemingway's Jane is a twenty-something L.A. transplant who lounges around in short shorts with her toy Chihuahua, Starlet, and her pothead roommates in the San Fernando Valley. Besedka's Sadie is a grumpy old lady trying to shut the world out of her lonely, isolated existence. The two meet by chance when Jane buys a thermos from Sadie at a garage sale, then discovers thousands in cash hidden inside; she returns, worming her way into Sadie's life as she struggles to come clean about the money, and the rest... well, the rest is best discovered on your own.
[GALLERY: See which stars too SXSW 2012 by storm]
So what else should you know about Starlet and its star?
SKYPE, THE YMCA, AND CASTING STARLET'S TWO LEADS
Although she's been a runway and fashion model since her 2009 debut, Hemingway attended RADA for acting and says her dramatic interests predated her modeling career. Though she's appeared in small roles in a few projects to date, Starlet marks her first star turn. "I grew up on my mom's film sets, so it was kind of a natural instinct for me. And I've always kind of been an attention whore," she laughed. "Or more of a performing whore? I said to my manager, who kind of found me and whom I met through Bruce Weber, actually, I said, 'Don't worry -- there's going to be one director who's going to see something in me and really want me to be in their film.' Then I met Sean [Baker] and we instantly connected over a Skype video call, and I read his script and fell in love with it immediately."
Meanwhile, co-star Besedka Johnson, who makes her own screen debut here at the age of 85, always wanted to be discovered – and was finally found by Starlet's casting director at her local YMCA. (Johnson earned a special SXSW Jury recognition for her performance in the film.)
WHAT HOOKED HEMINGWAY ON STARLET – AND WHAT IT HAS IN COMMON WITH SOFIA COPPOLA'S SOMEWHERE
Hemingway described what grabbed her most when reading Baker's script. "I love the connection that Sadie and Jane have. It's very awkward and weird and there's a funny side and a sadness and a realness to the movie," she said. "I was telling Sean that one of my favorite movies of 2010 was Somewhere, and I kind of got that feeling from the movie a little bit. I like the weird silences and the realness of the people. And the nice thing about working with Sean is that I never worked with somebody who just got it, completely trusted me and wanted to know my opinions on things, which is amazing because sometimes you have so much to say and you just can't get it out there."
YARD SALES AND PORN STARS, TWO GREAT TASTES…
The film was conceived of by Baker (who co-scripted with Chris Bergoch) out of the confluence of two disparate ideas: The real life story of a friend who happened upon a small fortune in a yard sale find, and the intriguingly mundane private lives of porn stars Baker had met while casting for his MTV show Warren the Ape.
Porn actors Asa Akira, Manuel Ferrara, Kristina Rose, and Jules Jordan appear in cameo roles in scenes in one subplot that portrays the matter-of-fact business side of the adult industry. "That's the thing that was nice about the portrayal in the movie," said Hemingway. "Yes, these girls have these jobs. I think the nice thing is these girls are really normal – I mean they're normal, and there's a fucked-upness about it, but I think there's also a deeper inner story to it."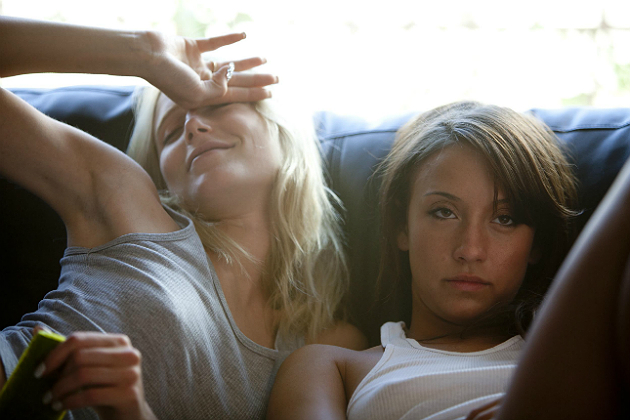 ABOUT THAT HARDCORE NC-17 SEX SCENE…
Baker originally envisioned the film's much talked-about sex scene as a hardcore sequence using real porn actors. Adult actress Zoe Voss served as consultant and body double on the film, and helped advise a nervous Hemingway the day of her big scene. "I literally sat down next to her and I was like, 'I somehow have forgotten that I had ever had sex before,'" she recalled. "I was like, 'What do I do?'"
Her only previous point of reference was a nude photo shoot she'd done for an art magazine ("It was so beautiful and not sexual at all"), but Starlet's big scene was far more daunting. "I had freaked out and there was all this stuff going on in my head because I'm not somebody who likes to watch porn, it freaks me out a bit, I don't know why," she said. "But talking to Zoe, who is the sweetest person ever, she's like, 'Dree, it's normal. You deep breathe when you have sex, do this when in doubt,' throwing different things at me."
Baker, meanwhile, isn't concerned about the potential challenges his film might face with an NC-17 rating, which it would most likely earn. "This is how I see it: The state that we're in right now with independent films, the best case scenario, which is like one percent, is a Blair Witch or Paranormal Activity that gets out and makes a hundred million dollars," he explained. "But for the most part independent films are going to play, best case scenario, strongly in the metropolitan areas and then do well on VOD. I don't see how a scene like that can hurt that model."
MODELING VS. ACTING, PHOTOGRAPHY VS. FILM
Hemingway, who continues her acting career with a role in Hervé Mimran and Géraldine Nakache's French film Nous York (which also stars Sienna Miller and John Cameron Mitchell), sees acting as a natural offshoot of her fashion work. "I kind of got into modeling because I was obsessed with people's fashion and style, and I think it was more me being interested in how people kind of rearrange themselves," she said. "That kind of goes for acting as well. I love watching people and I can kind of sit in a room and observe for a really long time. I was a ballet dancer for 15 years, so modeling was an aspect that could bring both together -- dance and acting -- because I think for every shoot you have a different character in mind that you're trying to portray for the photographer, who is like the director... I didn't really get into it until recently because I didn't think I was ready in life experience to just do that yet."
TAKING CUES FROM ACTRESS MOTHER MARIEL
While Hemingway is following in the footsteps of her mother Mariel and late aunt, Margaux, she intends to carve out her own path. Still, she's well-versed in her mom's film work and looks to her bold career choices as inspiration. "I want to do my own thing, but if I had the opportunity to do the kinds of things she's done…" she mused. "My mom had balls, to be honest. She went for big things that were like, wow -- Star 80 was very bold; Personal Best was the first movie that really touched based on lesbian issues; Manhattan, and her character in that, is one of my go-to movies for if I feel like I need to be real."
One major difference: Hemingway is commanding her own foray into acting, whereas her mother was "pulled" in. "The reason she got into acting was because Margaux was doing Lipstick and they couldn't find the girl to play her sister," she said. "They literally grabbed my mom, and my mom tells me that she went and saw the movie, got so mad at my grandpa and her dad and was like, 'I didn't know I was being raped in this movie!' And he's like, 'Why did you think you were running away?' She's like, 'I wouldn't have done this film if I had known!' But then, Manhattan [happened] and it all kind of fell into place."
Stay tuned for more on Starlet, which does not yet have distribution. Read more from SXSW 2012 here.
Follow Jen Yamato on Twitter.
Follow Movieline on Twitter.