The Girl: Toby Jones and Sienna Miller Recreate a Vintage Hitchcock-Hedren Moment, With Key Differences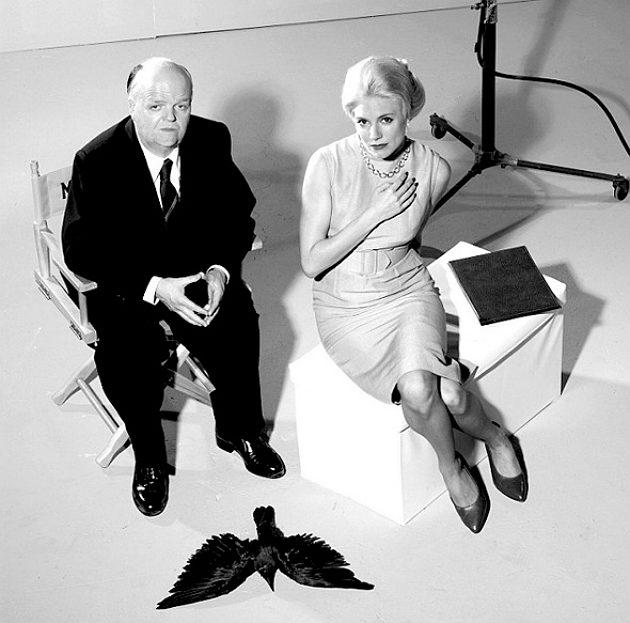 The BBC's biopic The Girl aims to explore Alfred Hitchcock's fascination with actress Tippi Hedren, and from the first image of Toby Jones as Hitch and Sienna Miller as his The Birds and Marnie muse this promises to be an intriguing watch. But mimicry/homage aside -- as evidenced by the near-perfect recreation of Hitch & Hedren's famous Birds promo photo -- will The Girl get everything right about their relationship? Like the fact that, as Hedren has been saying for years now, Hitch stalled her career because she turned him down?

Hedren is a consultant on The Girl, one of two Hitchcock-centered features in the works (the other: Alfred Hitchcock And The Making Of Psycho, with Anthony Hopkins and Scarlett Johansson), which is directed by Julian Jarrold (Kinky Boots, Red Riding 1974). Still, the Daily Mail reports, Hedren is worried the film won't depict the extremes to which she had to be strong in the face of Hitchcock's dominance and sexual advances.
"I admired Hitch tremendously for his great talent and still do," she said. "Yet, at the same time, I loathed him for his off-set behavior and the way he came on to me sexually...He was a great director – and he destroyed it all by his behavior when he got me alone."
"There were so many wonderful films we could have made together but it was all thrown away because of his mindless lust...I was a highly moral girl. I couldn't submit to him no matter that he threatened and did ruin my career."
Exactly how deep into the Hitch-Hedren symbiotic relationship The Girl will go remains to be seen, but it would appear Jarrold's paying painstaking attention to detail to some degree; compare the above first image from The Girl with the vintage Birds promo shot it mimics, from the wrinkle in Hitch's brow to Hedren's perfect blonde 'do.
What's different, beside the angle of the prop bird at their feet and the color of Hedren's pumps? Jones' and Miller's expressions are decidedly not as forcedly sunny as those of their counterparts, and she sits angled away from the director, all of which suggests there's more stormy unrest behind the scenes between the two than seen in the original picture.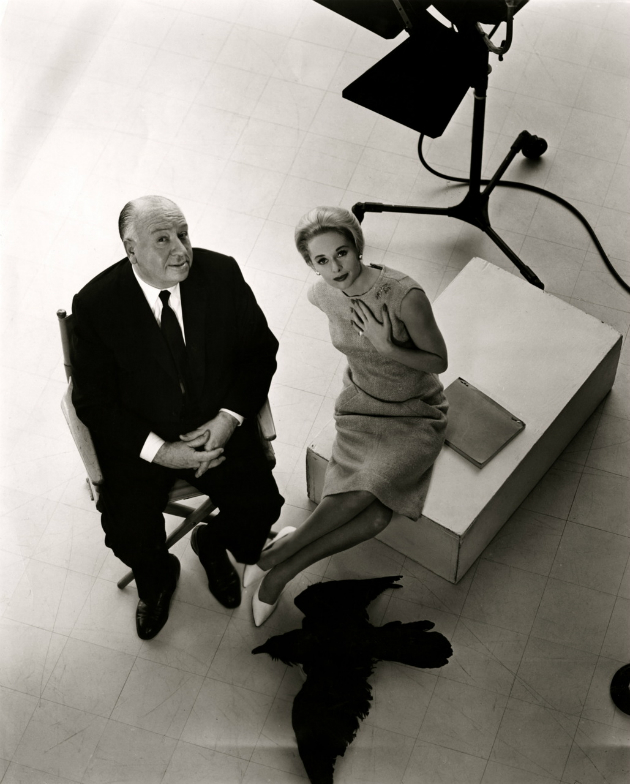 [Daily Mail via The Playlist]