Weekend Receipts: Jump For Joy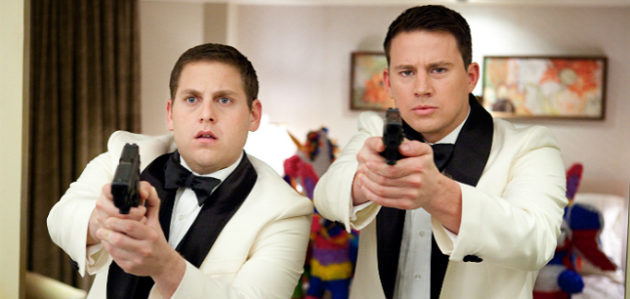 Despite the stiff competition of the NCAA tournament and the local bar, the multiplex fared all right over St. Patrick's Day weekend: The single new wide release 21 Jump Street was a hit, and The Lorax retained its blockbuster status in its third week of release. Not bad! Your Weekend Receipts are here.

1. 21 Jump Street
Gross: $35,000,000 (new)
Screens: 3,121 (PSA $11,214)
Weeks: 1
Despite (or because of?) its R-rating, the TV reboot/adaptation scored in a terrific per-screen average and stands to come in a sturdy (if distant) second next weekend to The Hunger Games. Great job, Sony! Next up: T.J. Hooker, starring Danny McBride. OK, never mind.
2. Dr. Seuss's The Lorax
Gross: $22,800,000 ($158,400,000)
Screens: 3,769 (PSA: $6,049)
Weeks: 3 (Change: -41.3%)
The domestic total is extraordinary, but factor in the 30 or so foreign markets where The Lorax has yet to open (or at least be reported), and we might be on the cusp of a half-billion dollar phenomenon. In which case, how do we sequelize Seuss? Do we sequelize Seuss?
3. John Carter
Gross: $13,515,000 ($53,172,000)
Screens: 3,749 (PSA $3,605)
Weeks: 2 (Change: -55.2%)
Decent overseas numbers notwithstanding, you can cry for John Carter now.
4. Project X
Gross: $4,005,000 ($48,131,000)
Screens: 2,922 (PSA $1,371)
Weeks: 3 (Change: -64.1%)
It's not too often that you see a film averaging less than $1,400 per screen coming in fourth overall, especially after a 64 percent drop. It's even rarer to...
5. A Thousand Words
Gross: $3,750,000 ($12,103,000)
Screens: 2,952 (PSA $1,979)
Weeks: 2 (Change: -39.3%)
...surpass a fifth-place finisher with a higher average on virtually the same number of screens. And a mere 39 percent drop. Fluke of the Irish, etc. etc.
[Figures via Box Office Mojo]
Follow S.T. VanAirsdale on Twitter.
Follow Movieline on Twitter.