Get Excited: Piranha 3DD Has a New Release Date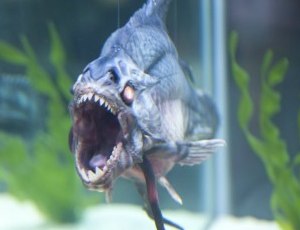 For many, the Weinstein brothers' inescapable awards-season carpet bombing was mere insult added to an even more grievous seasonal injury: moving Piranha 3DD from its original November 2011 release date to the notorious TBD associated with so many well-known Weinstein projects. What did you expect, though? Madonna/W.E. Golden Globe campaigns don't pay for themselves, right?

Anyway, as befits a new inductee into France's Legion of Honor, Harvey Weinstein and his brother Bob's genre label Dimension Films are not skimping on the public service, finally rescheduling the blood-and-boobs fishploitation extravaganza for June 1. The good news? That's only two and a half months away! The bad news? That's only two and a half months away! Is there enough time and money left after handling the Bully ratings "crisis" to manufacture a PG-13 crusade for this one? How will kids at lakeside summer camps nationwide know how to best deal with flesh-rending fish infestations? Think of the children, save the date, etc.
[STYD]