Breaking Dawn Part 2 Teaser Reveals First Look at Vampire Bella Swan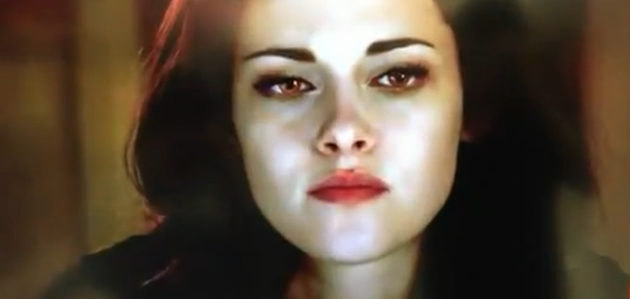 Kristen Stewart should finally get to have some fun this November in Summit's franchise-ending The Twilight Saga: Breaking Dawn - Part 2, which sees heroine Bella Swan finally blossom into the hot lady vampire mom she was always meant to be. A new teaser reveals your first full look at Stewart as Vampire Bella flexing her new superpowers, making out with Robert Pattinson, worrying about the hordes who want to kill her baby -- you know, the usual new parent routine.

The clip, apparently taken from a Target in-store promo reel, reveals Stewart in full vampire mode: Red lips, amber eyes, pale skin, perfect eyebrows, bolder sense of self-confidence. The scene within shows Bella and Edward discussing their final challenge: Gathering enough support from the vampire community to prove to Michael Sheen's head bloodsucker crew that their little half-human, half-vampire baby Renesmee isn't an abomination of nature.
That's essentially what the conclusion of Breaking Dawn is about: Parenthood. Sigh. Compared to the teenage murder battles of The Hunger Games Bella's undead domestic melodramas don't sound quite as exciting anymore.
[via
Daily Mail
]