WATCH: Peeta Drops a Love Bomb in New Scene from The Hunger Games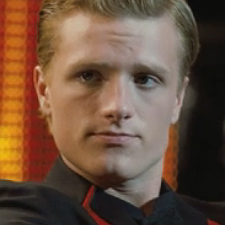 With The Hunger Games just two Fridays away from blowing up the box office, it's about time you get acquainted with the YA phenomenon launched by Suzanne Collins bestselling novels. So for the next ten days, Movieline will be counting down to The Hunger Games with a new feature every day to prep you for the dystopian sci-fi saga. Let's start things off with a look at a newly unveiled clip featuring Josh Hutcherson (Bridge to Terabithia, The Kids Are All Right) as golden boy Peeta, who declares his love for Jennifer Lawrence's Katniss on national television. Cue the collective swoon in 3, 2, 1...

Ok, a bit more setup: Katniss Everdeen and Peeta Mellark are the two teenaged tributes from District 12, set to battle to the death against 22 other youngsters in the annual Hunger Games. In advance of their battle royale each tribute appears on Caesar Flickerman's (Stanley Tucci) talk show to wow potential benefactors whose coveted gifts -- food, medicine -- can help during the Games.
During his turn in the hot seat, Peeta reveals a secret that takes Katniss by surprise and affects their fate. More importantly, it's the first extended look at Hutcherson as Peeta, charming and confident and working those puppy dog eyes so hard you hardly remember Tucci's sitting across from him in a ridiculous blue ponytail.
[via MTV]
Get more on The Hunger Games, in theaters March 23.