Surprise! Ethan Hawke Haunted House Horror Sinister Sneaks At SXSW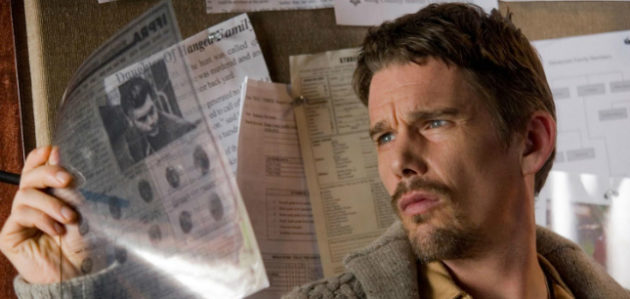 Three days into SXSW and the biggest winner so far has been Joss Whedon and Drew Goddard's geek-pleasing meta-horror pic Cabin in the Woods, which Lionsgate releases in April. But also in town in search of a SXSW buzz bump is Lionsgate/Summit's Ethan Hawke-starring haunted house pic Sinister, which debuted as a "secret screening" Saturday night – not the most spectacular secret title possible, especially in contrast to hopeful speculation for a sneak Avengers or Hunger Games debut, and not entirely secret, but fine enough.

Sinister, set for release in October, stars Hawke as a novelist so desperate for inspiration that he moves his family into a house whose former inhabitants were recently murdered; he discovers mysterious Super 8 snuff films but begins to lose his grip as the spooky supernatural truth behind the killings emerges.
The early consensus here is that Hawke's performance is impressively moody and the scares effective, but Sinister remains within the constraints of the haunted house subgenre, for better and for worse. But would Sinister have made a great festival secret screening if not for its pedigree? Screenwriter C. Robert Cargill (AKA "Massawyrm") is a contributor to Ain't It Cool News, which hosts the annual secret screening sidebar, director Scott Derrickson (The Day the Earth Stood Still, The Exorcism of Emily Rose) has at least some genre cred to his name, and producer Jason Blum is one of the masterminds behind the recent wave of modestly-budgeted hit horror acquisitions, having produced the Paranormal Activity films and last year's Insidious.
Cabin in the Woods may have earned the more effusive praise but Sinister seems poised to reap greater benefits from its SXSW debut, considering that it wasn't on anyone's radar beforehand. Now instead of being that one movie that sounds like a quickie studio Halloween release, it can at least claim to be that one movie that sounds like a quickie studio Halloween release that played decently to the early birds. We'll see in seven months if Sinister can play to audiences this well and garner Lionsgate/Summit their own PA/Insidious-style hit.
Read more from SXSW 2012.