Cult Fave Susan Tyrrell and the Zellner Bros. On Their SXSW Fable Kid-Thing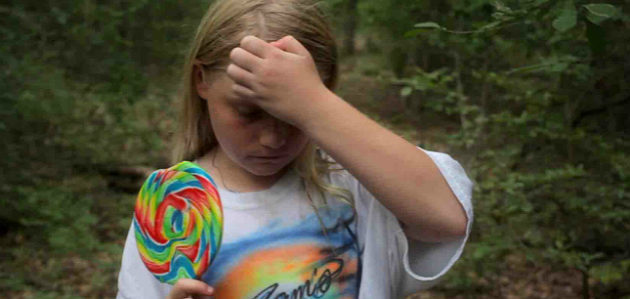 Filmmaking brothers David and Nathan Zellner (Goliath) tackle the isolation and discovery of childhood in Kid-Thing, a naturalist East Texas-set fable about Annie (Sydney Aguirre), a lonely ten-year-old tomboy who discovers a mystery woman at the bottom of a well while playing by herself one day in the woods. Lending her distinctive voice to the proceedings is Oscar-nominated cult actress Susan Tyrrell (Forbidden Zone, Cry-Baby, Fat City) as the woman in the well, who may or may not be real – or harmless. Movieline spoke with Tyrrell and the Zellner bros. about their Sundance, Berlin, and SXSW selection, which screens in Austin today.

The ambiguity of what's really going on in the world of Kid-Thing lends the film its sense for the childhood experience as witnessed through Annie's eyes; ignored and left to her own devices by her hapless single father (played by Nathan Zellner), Annie stifles her frustrations at home and wanders the dirt roads and freeways on her BMX bike, casually destroying anything she stumbles across. On the one hand she's deeply perceptive, the result of early confrontations with disappointment, neglect, and loneliness; on the other, she's still a kid ruled by her own sense of logic, morality, and imagination.
Many films have tackled the inner life of children, but few of them choose as their protagonists complex young girls facing the world with such a deeply-felt emotional chip on their shoulder. David Zellner, who wrote and directed the film, explained what inspired the creation of Annie. "We wanted to do a movie centered around a child that was from the child's perspective, as opposed to the rose-tinted glass of an adult perspective – whether it was an adult literally looking back or you just kind of get that vibe sometimes, a lot of films about children are sentimental and have a tendency towards being maudlin and we wanted it to be an in the now kind of perspective of what this kid's going through, in terms of the beauty and horror of how they're interpreting the world around them."
As played by newcomer Aguirre, Annie's one of the more complex and interior child protagonists to come along in a while – destructive and emotional, growing out of her blithe childhood in the never-explained absence of her mother. Left to fend for herself, more or less, she increasingly tests boundaries in the world around her – and the discovery of Esther (Tyrrell), trapped at the bottom of a dark hole in the ground, puts Annie in control of something for the first time in her life.
"I like how kids at that age are like little explorers and scientists and they're all about pushing buttons and finding boundaries, and there's this stimulus-response thing," said Zellner. "'If I do this, how does the world around me react?'"
The Zellners found their young star after working with her on a music video, and after years of developing the idea for Kid-Thing they knew they had just the right Annie. "She's very physical and very athletic and we loved that, because you don't see many girl characters that aren't just precious," Zellner explained, comparing her Annie to a female Huck Finn and a Days of Heaven/Out of the Blue actress Linda Manz.
When it came to finding the right voice for Esther, the duo looked no further than veteran actress Tyrrell, whom they'd met through the Austin film scene. "Susan has this great demanding, aggressive, sweet, powerful voice," remarked Nathan Zellner, "and Sydney's so silent -- but she battles her a couple of times in the film and it was like a power struggle between a ten year old and this mysterious woman."
Tyrrell, who refused to read the whole script ("I like to hear as little as possible -- that's my style," she explains), agreed to lend her voice to the film and recorded her part in the span of a few hours. "I figured I had nothing to lose," she said. "It was like two hours or three. That's how I like to do it – fast!"
Despite losing her legs due to illness in 2000 Tyrrell has continued to work in film here and there, appearing most recently in films like Masked and Anonymous as Ella the Fortune Teller. But in classic Tyrrell style, she has no reservations about showing her condition to the world. "I know people are looking, but I've always enjoyed attention. And I have my dog, everyone's scared of her – she's a silver giant poodle, a really big one. When we go out on the street it's honk, honk!"
In fact, she hopes to reunite with the Zellners on a much different feature film, in which she would star. "We have a very sick idea," she promised. "The next film we're doing, I can only say – I lost my legs, so I'll be legless – there will be a lot of sex."
Though she now prefers a quiet life, Tyrrell keeps acting "for the money, honey!" But the independently-produced Kid-Thing, a modest affair by most standards, came about for other reasons. "You've got to do things for your friends," she explained, "and hope that it all comes out."
Kid-Thing screens today and this week at SXSW.
Follow Jen Yamato on Twitter.
Follow Movieline on Twitter.