Jean Dujardin or Happy Joe Lucky: Who Has the Kid-Pleasingest Cigarettes?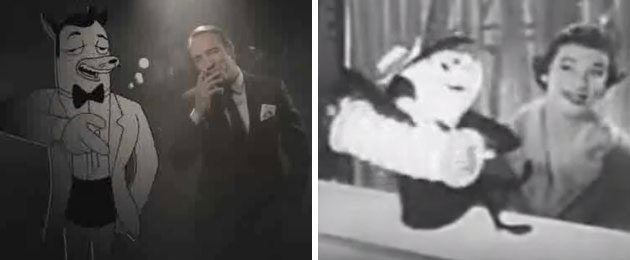 This new Funny or Die bit featuring reigning Oscar king Jean Dujardin pushing a fictional brand of cigarettes in the suavest, most charming and youth-enticing way possible is pretty good ("And now in Cotton Candy and Snickers Bar!" I LOL'ed). Still, when it comes to animated/live-action smoke pushers, Dujardin and his partner in crime have pretty formidable competition in the infamous Happy Joe Lucky. Right down to the accordions! Who's got the kid-pleasingest cigarettes around?

Dujardin's video calls for a rummage through the YouTube wilds, where we find the animated Lucky Strike mascot dueting with Your Hit Parade star Gisele MacKenzie. What an era! Smoke if you got 'em! BRB, etc.
Follow S.T. VanAirsdale on Twitter.
Follow Movieline on Twitter.