9 Pro Tips for Landing That Action Star Gig from John Carter's Taylor Kitsch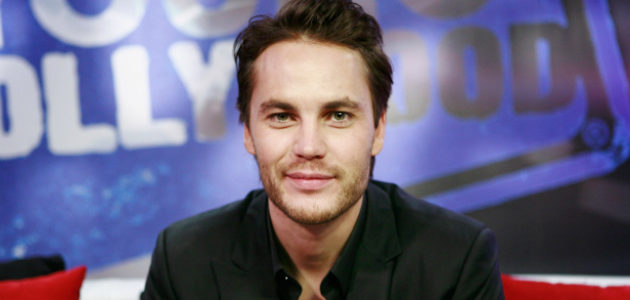 Taylor Kitsch is about to have a very big 2012. In addition to carrying Disney's ambitious sci-fi adaptation John Carter as the titular Edgar Rice Burroughs hero, a Civil War veteran transported to Mars, he's also fronting Peter Berg's alien invasion actioner Battleship and starring in Oliver Stone's Savages later this year. But as Kitsch revealed to Movieline, the John Carter job wasn't easy to get — and the toll it took on him during production was a challenge in itself. So who better to offer pro tips on nabbing the spotlight and handling the pressure of becoming an action hero than Kitsch, on the eve of a new chapter in his career?

It should be noted that Kitsch is no stranger to action, having appeared in films like Snakes on a Plane, The Covenant, and X-Men Origins: Wolverine already in his six-year career, and no stranger to the spotlight thanks to his beloved turn as Tim Riggins on Friday Night Lights. But John Carter marks his first starring role and by far his biggest film to date, a sprawling epic set on a vast alien world envisioned in great detail by director Andrew Stanton (Finding Nemo, WALL-E).
So how did Kitsch land the coveted role? What does his John Carter role share in common with his last one, as the late South African photojournalist Kevin Carter, in The Bang Bang Club? All this and more as Taylor Kitsch shares his pro tips on landing (and keeping) that action hero gig.
1. Don't think of yourself as an action star.
"That's you guys labeling me, so me saying yes to that – I can't say yes to that because I refuse to put myself in that bubble. You saw Bang Bang Club, that's no action movie. We hope to keep throwing you curveballs so you can't put me in a spot like that."
2. Ignore the hype and the naysayers – worry about putting pressure on yourself to do the work so you can sleep at night.
"The pressure is what I put myself on in the sense of getting and doing the best I can, and having no regrets with what I put into it. That's the pressure. The pressure now is that you can overthink everything, from how it's going to do and how people are going to perceive it, you, this and that. If you want to drive yourself crazy over that you can, but I think that's why you put so much into it. So you can lay down at night and be okay with what you did and be like, you know what? I still wouldn't change it. If you say I'm fucking shit, I still wouldn't change it."
3. Be picky. Taking on a blockbuster gig is a huge commitment, so make sure you're doing it for the right reasons.
"Hopefully you feel that, you see it. You see the emotion and the energy that it takes to really do what it deserves, potentially. I think that's what it's about, and that's why I'm so picky with the jobs. I'm all in. I'm never going to do a job for the sake of working. So we're at a point now of looking at the next job, or whatever that is, and my people, my team, have been with me from Day One. If I don't work for a year, I'm OK with it. We're not going to do it unless we have to do it.
"I was and still am okay with doing indies for the rest of my life. I don't need to be in the spotlight; if anything, I'll push it away even more. I live in Austin. I love the work. I love the storytelling, and that's what the first meeting represented. I could play so many parts in this one character, from the Western, from the guy that doesn't give a shit, to the guy who's finally come full circle and become the leader that he's pushed away for so long. I love that, and I love working with an Andrew Stanton, a Willem Dafoe, a Mark Strong, a Sam Morton, a Thomas Haden Church, a Lynn Collins."
4. Make sure there is a "there" there.
"Man, I will be shit if you give me nothing to play. [...] Any actor will tell you, the more you can give me, the more depth I can escape into, the better it's going to be on every level."
5. Flawed characters are more interesting to play, and are worth diving into headfirst -- even if it takes a lot out of you.
"It's not the war thing, but the more interesting guys I grew up watching -- I like watching the more flawed guys than the perfect guys, and that's more interesting for me to play. That's more real to me. I love that and I love bringing people into a performance and it takes so fucking much out of you to do it honestly, but it's worth it. Kev Carter – you won't meet a guy more flawed. That crushed me."
6. Remember to maintain balance with the emotional and physical demands of carrying a tentpole… especially when they require regular, long-term maintenance of action-hero muscles.
"I was beyond exhausted in this film. Yeah, six day weeks is what killed me. I think I just pushed myself -- I don't regret it because you see it, but at times I could have had a better balance, maybe, just because waking up that early so often and the lack of sleep and pushing yourself that much, to have that much energy onscreen… for seven months, to be at that aesthetic! It'd be a lot easier if I had one shirtless scene and I could just get toned for that then be OK and balance it out, but it was 11 months that I was on that diet and training regimen. It's very unreal to do that and to look that way, obviously, but it's what I guess I demanded out of myself. This goes back to Kev [Carter, of the Bang Bang Club], too. No one asked me to lose a pound, I wanted to.
7. That said, don't worry too much about how you look, stud.
"Fuck, man. You never want to be that conscious in a scene. That'd mean I'd be so totally out of John Carter mode, if I'm really that conscious of how I look and the lighting. That's really bad. [But] you definitely have to do what you have to do to put yourself in the moment so it's connecting to whatever it is. I think you've just got to get to a point where you're okay with how you look and what you're doing and you leave it and let it lay. Whatever it is, I look at that scene and it is what it is"
8. Go out for a role knowing it's yours to lose. The audition process for John Carter was particularly grueling, with five actors and five actresses vying for the same roles over the course of two intense days.
"Man, I was just so focused, I was so myopic with it. I prepped so much for that audition. I've always been an underdog and I came in on this gig that way, but it was like I felt it was mine to lose. I went in with that thinking really, if I can go in all out on this, I'm going to go in and kill it as much as I can. But it was a tough process, for sure. Two 14-hour days… and you've got to remember, what's bizarre about getting roles and auditioning for the most part is you do your prep and everything for the most part after you get the role. It's like OK, now I've got to sit down and really sketch this guy out. It's a trip. "
9. Whatever you do, do not go out partying the night before a big audition.
"I won't call the guy out, but I know and it gave me more oomph, put it that way, knowing that this one guy that was up for it was out partying quite hard the night before or two nights before. No matter what, I hear about that and I know I got ya, man. It's like, good on ya for making it a little bit easier on me."
John Carter is in theaters this week. Read more on the film here.
Follow Jen Yamato on Twitter.
Follow Movieline on Twitter.