Listen to the Rare, Vintage Pop Stylings of Ian McShane and Julian Schnabel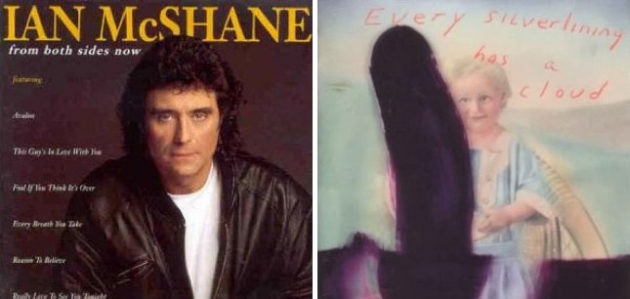 No! Not together! Could you imagine? Actually, I guess you're perfectly welcome to play these unearthed early '90s pop gems by artist/filmmaker Julian Schnabel and actor Ian McShane simultaneously in a fit of masochistic Tuesday morning ardor, but nine out of 10 doctors would strongly disapprove. And the tenth one would be clinically deaf. Let's have a listen!

Jordan Hoffman passed along word this morning of his extraordinary archival find: Schnabel's troubled 1993 album Every Silver Lining Has a Cloud, produced by Bill Laswell and featuring a fairly staggering line-up of Anton Fier on Drums, Laswell on bass, Bernie Worrell on keys and Buckethead on guitar. And behind the mic: Schnoul Brother No. 1, Mr. Julian Schnaaaaabellll [CROWD GOES WILD]:
I know what you're asking yourself: How did this happen? How could this happen? Is that a turd or phallus on the album cover? But there's no time for questions — not with Ian McShane's 1992 covers album From Both Sides Now to revisit. No real back-up band on this one besides the British producers The James Boys, a pair of wunderkinds who laid down just the right karaoke-style synth jams to complement England's own hardest-working man in show business:
Check out the complete story behind McShane's misbegotten croonery here, and lobby Hoffman to release the rest of those hallowed Schna-ballads here.
Follow S.T. VanAirsdale on Twitter.
Follow Movieline on Twitter.