Amber Tamblyn is 86% Sorry For Pulling the Best E-mail Prank Ever on Tyrese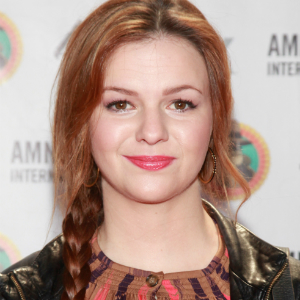 Amber Tamblyn (Sisterhood of the Traveling Pants, The Increasingly Poor Decisions of Todd Margaret) always seemed like a girl with moxie, and I'd guess you don't fall in with a guy like David Cross without one wicked sense of humor, but even so the depths of awesome that she went to in pranking Tyrese Gibson deserve applause. And boy, what a prank: After receiving an e-mail from the Transformers/Fast 5 star proposing a future collaboration after he mistook her for model Amber Rose on a mutual friend's email message, Tamblyn reportedly had some fun with the musician-actor with a series of original "Awareness Raps."

An excerpt of the exchange, as detailed at the blog Street Boners and TV Carnage:
On Feb 26, 2012, at 10:16 AM, Amber Rose T wrote:

lol u are so sweet boo I've been trying to get this album goin for so long u know how it is. Attached is the single demo I've been workin on… not finished yet but soon! Thanks to u boo lol. I will send you more demos soon. You will have demos comin out ur demos!!

lol

A
On Sun, Feb 26, 2012 at 10:55 AM, Tyrese Gibson wrote:

We can make it real …. I'm sitting on a lot of magic … Let me know when ur in LA .. We can play until we customize AR

Respectfully,

Tyrese Gibson
Head to Street Boners and TV Carnage for the full — and increasingly hilarious thread (sorry, Tyrese!) — with yet more of Tamblyn's original R&B jamz. Eventually, Tamblyn says, Tyrese caught on to the sham and cut off the exchange; Tamblyn gave the following update on her official blog in a post entitled The Tyrese Sessions:
I emailed Tyrese one last time yesterday (as myself of course) after he wrote me saying "you took this shit public?! Not cool... not even remotely..." I reiterated that yes I took advantage of a man that took adntage of another man's cc list... but it's all good- we should do a song together and laugh at the whole thing. He said my music was "corny as fuck" and no. Now I am 86% sorry, Tyrese.
Raise your Maker's Mark in the air for Amber (Rose) Tamblyn, everyone. Get we get a slow clap going by everyone on the Internet?
[Street Boners and TV Carnage via @QuestLove, @JohnAugust]
Follow Jen Yamato on Twitter.
Follow Movieline on Twitter.