Weekend Receipts: The Lorax Sends a Very, Very Green Message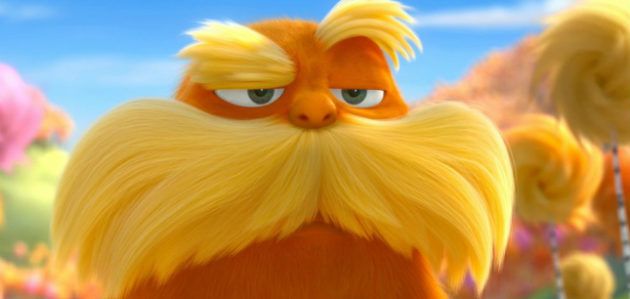 What a weekend for Dr. Seuss's The Lorax: The environmentally tinged adaptation became the latest of the beloved author's film spinoffs to capture the top box-office perch. Meanwhile, the raunchy Project X settled in quietly behind it, earning roughly a dollar per topless scene en route to second place. Your Weekend Receipts are here.

1. Dr. Seuss's The Lorax
Gross: $70,700,000 (new)
Screens: 3,729 (PSA $18,960)
Weeks: 1
What can I say? A generation is indoctrinated to the left! Lou Dobbs will be outraged! Malia Obama for president in 2036!
2. Project X
Gross: $20,775,000 (new)
Screens: 3,055 (PSA $6,800)
Weeks: 1
Not so bad an opening for the critically reviled bit of mayhem from the mind of Todd Phillips — but good enough for a sequel? Project Y, coming to DVD and Blu-ray by the holidays? Hell, the way these things are shot, maybe by Memorial Day.
3. Act of Valor
Gross: $13,700,000 ($45,239,000)
Screens: 3,053 (PSA: $4,487)
Weeks: 2 (Change: -44%)
The Navy SEALs-against-the-world propaganda exercise held up reasonably well in its second week, setting up next weekend's crucial Lorax vs. Valor ideology face-off for fourth place — or maybe even third place, considering the smallish release for Eddie Murphy's A Thousand Words. Place your bets. Or I can just wake you when it's April, your call.
4. Safe House
Gross: $7,200,000 ($108,200,000)
Screens: 2,533 (PSA $2,820)
Weeks: 4 (Change: -34.1%)
I can only imagine the back-and-forth between Denzel Washington's WME team and Ryan Reynolds's CAA crew this morning as they struggle to take primary credit for their stars' stunning collaborative success. If I didn't know any better, I'd just attribute the whole phenomenon to Harvey Weinstein, because what triumphs hasn't he wrought in the last seven days?
5. Tyler Perry's Good Deeds
Gross: $7,000,000 ($25,745,000)
Screens: 2,132 (PSA $3,283)
Weeks: 2 (Change: -55.1%)
Tyler Perry is nothing if not consistent, on track for another mid-$30 million performer sans the Madea muumuu. He'd argue that a wider release would sweeten the box office, and for this one in particular I'd agree — though I'd rather simply see him split the franchise difference and attempt Why Did I Get Married 3-D. They've got The Rock in the series now! Seriously, blockbuster city.
[Figures via Box Office Mojo]
Follow S.T. VanAirsdale on Twitter.
Follow Movieline on Twitter.