For His Next Trick, Harvey Weinstein Has Bully Trending — and Misunderstood — on Twitter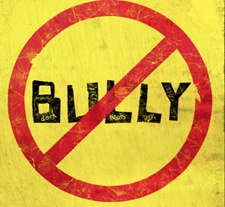 Their five-time Oscar winner The Artist may have just experienced its most lucrative weekend at the box office to date, but newly installed Legionnaire of Honor Harvey Weinstein and his Weinstein Co. minions remain firmly focused today on the Great Bully Ratings Non-troversy of 2012. How do we know? To Twitter, where #BullyMovie is this morning's highest-ranking (promoted, ahem) trending topic.

Here's the official shout-out from the Bully gang, carrying over last week's "human rights" crusade to get the Weinstein release's R-rating reduced to a PG-13.
Wildfire petition to tell the @MPAA to give @bullymovie a PG-13 breaks 180,000 RT to keep the fire!bit.ly/AbQWZ1 #bullymovie

— Bully Movie(@bullymovie) March 2, 2012
So how's the response? Mostly positive, naturally, with a few contrarian opinions and hilarious misunderstandings thrown in for good measure:
#BullyMovie needs to be PG13. #MiddleFingerUp to the bullies at the MPAA who rated this important film R.

— Extrovert (@RamiTime) March 5, 2012
I'm curious about #BullyMovie. Does it only look at the victims?Because the bullies themselves are almost always victims of bullies as well.

— Scott S Kramer (@scottskramer) March 5, 2012
If @WeinsteinFilms cannot change the R rating to #BullyMovie then no one can. Seriously, they made "The Artist" won best picture.

— Natalia Cariaga (@natajunk) March 5, 2012
Sorry guys, but this #BullyMovie isn't going to stop bullying any more than "Roots" and "The Color Purple" stopped racism.

— FTKL Images (@FTKL) March 5, 2012
#BullyMovie Mean Girls

— Erica Mabrey (@adagewhentola67) March 5, 2012
#BullyMovie Precious!

— Aidan DeVaughn (@adm1022) March 5, 2012
kind of a #BullyMovie The Little Rascals its the best, back in the day !

— Julian Bolton (@SupermanJr35) March 5, 2012
Harry Potter and the chamber of First Years. #bullymovie

— All was well (@iManageMischief) March 5, 2012
Harvey's secret weapon? What else?
@KhloeKardashian calls @BULLYMOVIE trailer "heartbreaking" - WATCH THE #BULLYMOVIE TRAILER: bit.ly/znJ8C0

— Bully Movie(@bullymovie) March 5, 2012
What a grotesque fucking circus. Knowledge is power!
Follow S.T. VanAirsdale on Twitter.
Follow Movieline on Twitter.