Watch An Angry Katniss Get the Gamemakers' Attention in Clip from The Hunger Games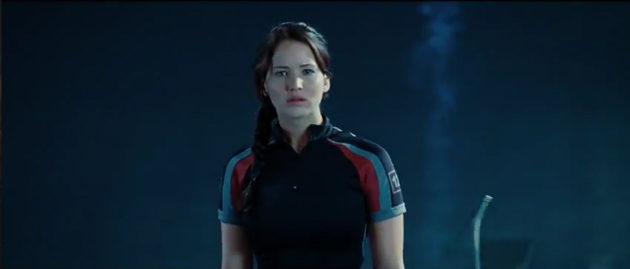 With only three weeks to go until YA adaptation The Hunger Games hits theaters, Lionsgate has released the first actual clip from the Gary Ross-directed film, and it's a memorable moment Hunger Games fans should recognize: Forced to show off her skills for the Capitol's boorish, drunken Gamemakers -- the designers of the Games, headed by Wes Bentley's Seneca Crane -- Katniss (Jennifer Lawrence) lets an arrow fly in an act of defiance that finally gets their attention.

It's a smart scene choice to unveil, as the barrage of trailers and TV spots released so far have offered only snippets from the film; this clip, meanwhile, gives more of a sense of Ross's sense for tone and pacing within scenes, not to mention how he might treat iconic moments from the book. Katniss's arrow flying at the pack of vulgar Gamemakers, in whose hands the fates of the Games' tributes lie, is one of one her first impulsive displays of rebellion against the Games and the government that created them -- the perfect way to get fans' attentions, too.
This scene also demonstrates Ross's stylistic approach, sound design, and visual interpretation of Suzanne Collins' Panem, and while I expected to see a little more outrage on Lawrence's face at the :30 second mark, it works for me. What say you, Movieliners?
The Hunger Games is in theaters March 23.