Happy 18th Birthday, Justin Bieber! Let's Predict His Acting Future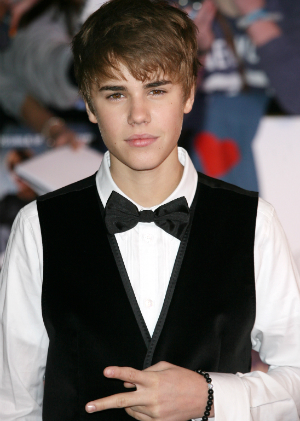 Usually we celebrate birthdays 'round these parts with a look at someone's best screen work. But pop icon Justin Bieber has only a guest turn on CSI and his hit concert doc Justin Bieber: Never Say Never under his newly notched cinematic belt -- so far. Still, he's got plans to break into acting with a handful of projects on the horizon, so in honor of the Biebster's 18th birthday, let's predict what the future may hold for the doe-eyed Canadian crooner as he adds "actor" to his resume in earnest.

As far as musicians-turned-actors go, the transition certainly can be made, and well; just look at examples from recent generations of teen idols-turned-thespians like Justin Timberlake, Ryan Gosling, and Mark (-y Mark) Wahlberg. After getting their respective starts by singing and dancing their way into the hearts of their fans (or, in the case of Wahlberg, rapping and dancing his way out of his pants for Calvin Klein), each took a different route to gain full-fledged respect as an actor.
Timberlake enjoyed early fame as the youngest member of boy band 'N SYNC before testing the waters of acting with the 2000 ABC telefilm Model Behavior, which any good 'N SYNC fan watched because it was Justin Timberlake Acting. Eventually he graduated to bolder choices in projects like Alpha Dog and Black Snake Moan, which declared his more serious acting aspirations, and thank goodness; he's much more interesting to watch these days even if every Social Network is balanced out by a Yogi Bear, In Time, Bad Teacher, or Friends with Benefits.
Gosling spent his youth alongside (and in the shadow of) Timberlake on The Mickey Mouse Club, a mop-topped Canadian R&B enthusiast who didn't quite go on to achieve the pop glory of the more successful of his peers. So he earned his stripes the old-fashioned way: At first on television in Young Hercules, then by going for braver roles in films like The Believer, which established Gosling's more indie-leaning tastes.
Wahlberg, meanwhile, shed his "Marky Mark" moniker as he pursued a serious acting career in the early-to-mid '90s. After appearing in supporting roles that tapped into his natural charisma in Renaissance Man and The Basketball Diaries, he dared to play bad in Fear and established himself by playing porn star Dirk Diggler in Boogie Nights.
So Bieber has no shortage of role models to mold his burgeoning acting career after; he's already got a starring feature project cooking with Wahlberg and may team up with Ashton Kutcher for a comedy. He's already too famous to follow in Gosling's footsteps -- the Drive star's trajectory was borne of necessity rather than celebrity -- but he could certainly take a cue from Gosling's choices. Then again, Bieber's got his brand and his fans to consider; how best can he transition into an acting career (not to mention young adulthood) while the world watches, and while he's still making more records that need selling?
That's not to say anyone's ready to see angel-faced Bieber playing thugs, evil boyfriends, neo-Nazis, or porn stars. (Just yet.) But I'd like to think he'd like to, one day. His stint on CSI playing a doomed serial bomber hinted at a desire to play against his pop persona. Show us more darkness, oh cherubic one! Use that magic hair for evil! I'm hoping the day comes when I can watch Bieber act and forget he's Bieber -- that he can make us Belieb, for real.