Strippers, Werewolves, Dinosaurs, Aliens, Cowboys, Ninjas and Vikings, Oh My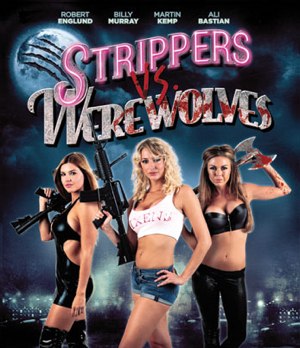 It may not feel like it sometimes, but believe me: This is a great time to be a moviegoer. Harvey Weinstein is at the height of his powers, Titanic is finally coming out in murky 3-D, head-exploding propaganda is No. 1 at the box-office, and we've got a superhero flick to look forward to virtually every week from May to August. What more could you want from the film industry? What's that? Strippers vs. werewolves, you say? Sure — that can be arranged.

To wit, today's extraordinary news from THR: Well Go, the indie distributor that brought you such trenchant fare as Mutant Girls Squad and The Greatest American Snuff Film, has struck a deal for North American rights to an actual movie called Strippers vs. Werewolves. It is what it sounds like and will no doubt present a fine counterpoint this summer to Steven Soderbergh's male-stripper opus Magic Mike. Earth needs a balance, folks.
Fine — strippers and werewolves and $300 budgets aren't your thing. You're more of a dinosaurs vs. aliens kind of person. Great! Guess what?
Move over cowboys, its dinosaurs that are going to battle aliens now. Following its launch announcement last May, Liquid Comics will release graphic novel Dinosaurs Vs. Aliens this summer based on an original story by Men In Black director Barry Sonnenfeld who worked closely on the project with comic book creator Grant Morrison (Batman, 18 Days, The Invisibles).

Morrison is writing both the graphic novel and the film screenplay for Sonnenfeld to direct while artwork for Dinosaurs Vs. Aliens is being done by Liquid Comics artist Mukesh Singh, who previously worked with Morrison on the 18 Days hardcover book. [...]

The story for Dinosaurs Vs. Aliens is based on a secret world war battle that was never recorded in history books. When an alien invasion attacks Earth in the age of the dinosaurs, our planet's only saviors are the savage prehistoric beasts which are much more intelligent than humanity has ever imagined.
Of course they are. But OK, OK, I hear you — forget the strippers and werewolves and dinosaurs and aliens, and let's see about a new kind of hero comprising three facets of a Bourne-style agent on a quest for revenge. Did I mention he's mentally ill? What could go wrong? Take it away, Mike Fleming:
Universal Pictures has acquired the action film Cowboy Ninja Viking and has Marc Forster ready to make the graphic novel adaptation his next film. The graphic novel and a Disney-developed script by Zombieland writers Paul Wernick and Rhett Reese were acquired by Universal after the script came in and was deemed too edgy for Disney's family film mandate. [...] The title character comes from a secret government program to turn schizophrenics into assassins. The protagonist comes through the program with the skill sets of a cowboy, ninja and a viking. While most of the patients involved in the program are sent back to insane asylum after the program went awry in Iraq, he escapes and uses his skills to track down the billionaire who masterminded the program.
What a world! This all bodes very well for my recently completed script Blogger vs. Half a Bottle of Ambien.
Follow S.T. VanAirsdale on Twitter.
Follow Movieline on Twitter.