Brazil Identity Thief Arrested Using Fake ID With Photo of Jack Nicholson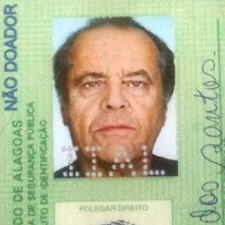 File under bonehead move of the day: A 41-year-old man in Recife, Brazil was arrested and charged with using false documents and falsification of public document when he tried to open a bank account with a number of fake IDs in his possession, including one featuring a photograph of Jack Nicholson.

According to Globo.com (via The Daily What), the accused was attempting to open an account in the name of one John Pedro dos Santos when authorities caught on. "There is no resemblance between the suspect and actor," notes the initial report.
Closer inspection pegs the photo as Nicholson's 2003 portrait by acclaimed photographer Martin Schoeller, published in the pages of EW years ago... so at least the guy's got good taste?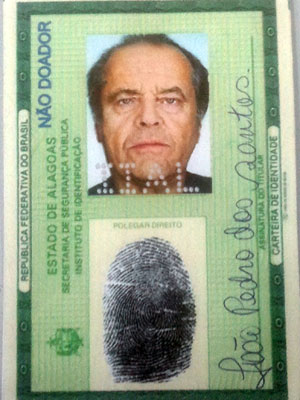 [Globo via The Daily What]