Watch Seth Rogen Take Down Brett Ratner, Mel Gibson, Oscars in Spirit Awards Monologue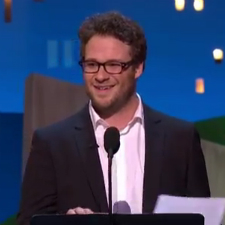 Any great awards show monologue skewers the nominees and sets the tone for the festivities to come, and this weekend's awards tour didn't disappoint -- if you were watching the Film Independent Spirit Awards and not the Oscars, that is. Host Seth Rogen trumped Billy Crystal the day before the Academy Awards when he roasted Hollywood's brightest along with Spirit Award nominees (like "creepy" -- and apparently good humored -- Michael Shannon). As for Rogen's best joke? It's got to be a toss up between his Ratner snipe ("Without awards season we wouldn't know how much of a horrible bigot Brett Ratner is") and his Lars von Trier hiding-in-Argentina bit. Hit the jump to watch the magic.


Previously:
Backstage at the 2012 Independent Spirit Awards
Highlights from Oscar Night 2012
After Billy Crystal's Tepid Turn, Who Would Make the Ultimate Oscar Host?