2012 Film Independent Spirit Awards -- Winners List (Updated)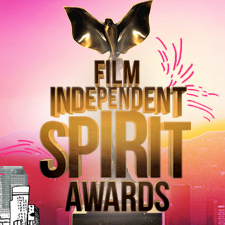 Movieline's backstage at the Film Independent Spirit Awards, where Seth Rogen is hosting (and absolutely killing it) at the annual celebration of indie filmmaking, held in a tent on the beach in Santa Monica. Want the irreverent, no holds-barred celeb-skewering monologue that Billy Crystal most certainly will not deliver tomorrow night? Stay tuned for clips of Rogen to hit the airwaves tonight. Meanwhile, follow along on Twitter (at @movieline) and check back here to see this year's winners updated as they happen!

Winners highlighted in bold below as they happen.
BEST SUPPORTING MALE
Albert Brooks Drive
John Hawkes Martha Marcy May Marlene
Christopher Plummer Beginners
John C. Reilly Cedar Rapids
Corey Stoll Midnight in Paris
BEST FIRST SCREENPLAY
Mike Cahill, Brit Marling Another Earth
J.C. Chandor Margin Call
Patrick DeWitt Terri
Phil Johnston Cedar Rapids
Will Reiser 50/50
BEST CINEMATOGRAPHY
Joel Hodge Bellflower
Benjamin Kasulke The Off Hours
Darius Khondji Midnight in Paris
Guillaume Schiffman The Artist
Jeffrey Waldron The Dynamiter
BEST SUPPORTING FEMALE
Jessica Chastain Take Shelter
Anjelica Huston 50/50
Janet McTeer Albert Nobbs
Harmony Santana Gun Hill Road
Shailene Woodley The Descendants
JOHN CASSAVETES AWARD
Bellflower
Circumstance
Hello Lonesome
Pariah
The Dynamiter
BEST MALE LEAD
Demián Bichir A Better Life
Jean Dujardin The Artist
Ryan Gosling Drive
Woody Harrelson Rampart
Michael Shannon Take Shelter
BEST DOCUMENTARY
An African Election
Bill Cunningham New York
The Interrupters
The Redemption of General Butt Naked
We Were Here
BEST SCREENPLAY
Joseph Cedar Footnote
Michel Hazanavicius The Artist
Tom McCarthy Win Win
Mike Mills Beginners
Alexander Payne, Nat Faxon, Jim Rash The Descendants

BEST INTERNATIONAL FILM
A Separation (Iran)
Melancholia (Denmark/Sweden/France/Germany)
Shame (UK)
The Kid With a Bike (Belgium/France/Italy)
Tyrannosaur (UK)
ROBERT ALTMAN AWARD
Margin Call
BEST FIRST FEATURE
Another Earth
In the Family
Margin Call
Martha Marcy May Marlene
Natural Selection
BEST DIRECTOR
Michel Hazanavicius The Artist
Mike Mills Beginners
Jeff Nichols Take Shelter
Alexander Payne The Descendants
Nicolas Winding Refn Drive
BEST FEMALE LEAD
Lauren Ambrose Think of Me
Rachael Harris Natural Selection
Adepero Oduye Pariah
Elizabeth Olsen Martha Marcy May Marlene
Michelle Williams My Week with Marilyn
BEST FEATURE
50/50
Beginners
Drive
Take Shelter
The Artist
The Descendants