Tune In (and Tweet Along) This Weekend During the Indie Spirit and Academy Awards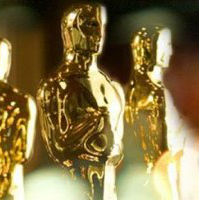 It's almost showtime, folks! Ready your Oscar picks, sharpen your wits, and join Movieline as Hollywood and Indiewood fete the best of the year. Your friendly Movieline editors S.T. VanAirsdale and Jen Yamato will be on hand at @movieline during Saturday's Independent Spirit Awards and Sunday's Academy Awards, so synchronize your watches and join us in tossing back a few and Tweeting up a storm on the big day(s).

First up is the Film Independent Spirit Awards, held annually on the beach in Santa Monica. The breezy affair celebrates the best of "indie" film -- I put that in quotes since the word takes multiple meanings these days, though technically Film Independent considers films made for $20 million and under to qualify -- and is hosted this year by Seth Rogen. A special credit this year goes to John Waters, who'll provide "The voice of God" for the proceedings. Follow Movieline on Twitter for live-tweets from backstage in the winners' room when the show begins Saturday at 1:30pm PT (the telecast will air on IFC that night at 10pm ET/PT) and check back here at Movieline.com for a wrap up of the night.
Sunday, of course, is the big dance; join S.T. VanAirsdale and Jen Yamato for an 84th Academy Awards live-tweetstravaganza here at Movieline starting at 7pm ET/4pm PT with the red carpet, where we'll watch as filmdom's finest dazzles on their way into Hollywood's glitziest shopping mall! Then let the bubbly-fueled snark rip at for the Oscars telecast Sunday at 8:30pm ET/5:30pm PT, hosted by Billy Crystal. Make sure to leave your Oscar predictions in the comments section before the telecast on Oscar Sunday so we can assign bragging rights to a victor at the end of the night...
Catch up on Movieline's coverage of this year's Oscar race.
Follow Movieline on Twitter.