REVIEW: Lack of Chemistry Can't Derail Tyler Perry's Harmless Good Deeds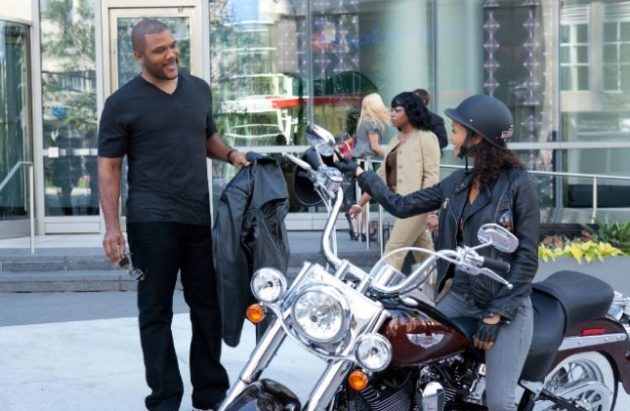 Tyler Perry doesn't don drag or delve into religion in his latest, Good Deeds — the film isn't part of the prolific entertainment giant's Madea franchise (next stop Madea's Witness Protection, slated for later in 2012), but rather of his less broad line of feel-good dramedies like Daddy's Little Girls and Why Did I Get Married? But despite the restrained tone, it's no less savvy an entertainment, one that Perry wrote, directed and stars in as San Francisco businessman Wesley Deeds, the wealthy, perfect son of a good family, head of the company his father created. Wesley's life changes when he meets Lindsey (Thandie Newton), a beleaguered single mom who works as the night janitor in his office building.

Like Maid in Manhattan, Good Deeds is an urban fairy tale in which the idea of a prince swooping down to woo and rescue the poor cinder girl is given a contemporary twist. But the film is well aware that it's Wesley, and the man playing him, who are the real objects of fantasy here. Loving to his icy mother (Phylicia Rashad), protective of his alcoholic, angry brother Walter (Brian White), devoted in his stewardship of the business he was left, this Deeds is actually too good, too reliable, subsuming any actual desires of his own to cater to the needs of everyone around him. He's so safe and predictable that when his fiancée Natalie (Gabrielle Union) finds a blonde hair on a pillow in their bed, she takes it not as a sign of possible infidelity but as one that she needs to tell the housekeeper to be more careful with their dry cleaning.
It's Lindsey, who with her 6-year-old daughter Ariel has recently fallen from a precarious economic situation into full-on homelessness, who breaks through Wesley's shell by, well, trampling all over him. Good Deeds has the shrillest meet-cute imaginable, in which Lindsey parks in Wesley's spot in the company lot and, having no idea who he is, calls him an asshole and walks away. Later, she taunts that he's going to run and "tell massa" on her when he catches her using an office phone for a personal call late at night. Lindsey's abrasiveness is weirdly delightful — she's not on the lookout for anyone to save her, and she's going through a very difficult time — but it's one of several reasons the romance angle of this otherwise engaging melodrama doesn't work. The primary one is chemistry — Lindsey and Wesley have none at all. There's a sibling quality to their banter that diminishes the potentially creepy aspects to the fact that Wesley comes to Lindsey's aid financially, buying her and her daughter dinner and eventually providing her with a place to stay in a corporate apartment, but there's no spark between them, even as her influence starts opening him to new possibilities in his life.
Newton's loveliness is undeniable, but it's downplayed until late in the film — before that point, she's harried and frequently seen wearing a cleaning crew outfit, sleeping with Ariel in her minivan or trying to hide the girl in a supply closet while she works the night shift. In contrast, Union's character is shown beginning the day getting immaculately made up while wearing a slip and heels. Part of the fancy of Good Deeds is that Wesley, a character who, as he says himself in the introduction, has everything, has a run-in with an unapologetically insulting, frazzled woman who leaves her kid unattended in her car and runs off, and he thinks that she's probably what he's been missing in his life. Wesley's so square that when he looks through Lindsey's iPod, he notes she's listening to "Two-P-A-C," but the two find common ground in their love of motorcycles, and take a geographically improbable lunchtime ride across the Golden Gate Bridge to Santa Rosa (despite filling in plentiful snap zoom-filled shots of San Francisco, Good Deeds was filmed in and looks like it was filmed in Atlanta).
While Wesley is both too good to be true and an absence of a charisma on screen, Good Deeds is very fair to its two main female characters even as they're both entangled with the same man. Despite her role in the story, Natalie isn't made into a villain, just someone who, like Wesley, has chosen something because she's been told she should want it. And the domino chain of poverty-driven difficulties Lindsey faces is well-realized — because she can't pay her rent on time, she's evicted and loses the savings she's hidden away, because she has to work she can't check into the shelter on time, because she's working double shifts to get back on her feet financially she's late picking up Ariel and her teacher notified child services. It's Wesley who never seems like a real person, but then he's not meant to be one — he's Prince Charming for a prospective audience of women who are less enchanted by rippling abs than by kindness and responsibility.
Follow Alison Willmore on Twitter.
Follow Movieline on Twitter.