Oscar Predictions: S.T. VanAirsdale On the Usual — and Not-So-Usual — Suspects Favored This Weekend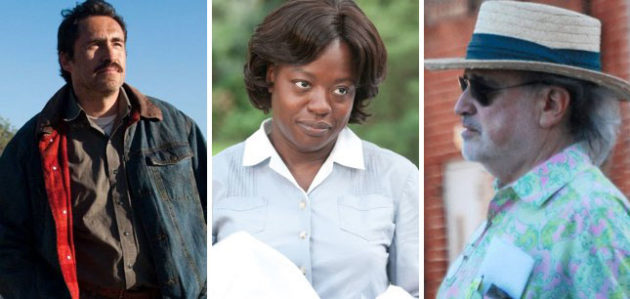 Forty-eight hours to Oscar. Gut-check time — or maybe make that "gut-instinct check" time, a moment to break away from the meticulous zeitgeist-combing science of Movieline's Institute For the Advanced Study of Kudos Forensics and make a few choices for myself. Not that they'll be so different, but if you can't go with a hunch where 5,765 fickle, insular industry minds are concerned, then what can you go with? We can't all be be Otis the Oscar Cat, you know. Anyway, let's make this quick:

BEST PICTURE
A certain voluble sliver of the Oscar punditocracy likes to whine about The Artist's awards-season supremacy — as if it signaled some searing compromise of the Academy's historic tradition of recognizing only the finest, most artistically challenging and rigidly contemporary work. These people sound like some bitter old man bitching about how the Super Bowl halftime show never features anyone good anymore, or some mouth-breathing fanboy complaining about the vanquished integrity of Star Wars. You guys, they were never good to begin with. In their own way — as meritocratic tastemakers — neither were the Academy Awards. This year's foregone Artist win has less to do with regressive, reductive cultural tastes than it does with Harvey Weinstein being a good marketer, no different than 15 years ago. If these whinging bozos won't learn, then can't they at least shut up?
Will win: The Artist
Should win: Melancholia. Wait, what? Oh. Fuck it. That's the best picture of 2011. Period.

BEST DIRECTOR
Have you seen Midnight in Paris recently? Man, that one does not hold up. The Descendants never did in the first place. Hugo is fine, but I think the groundswell of voters who got Terrence Malick into the competition in the first place could be formidable enough to actually sweep him right past Martin Scorsese into very close competition with Michel Hazanavicius. In fact, you know what? I'll call it for Malick, why the hell not.
Will win: Terrence Malick, The Tree of Life
Should win: Lars von Trier, Melancholia. Yes, I heard you the first time. Make your own predictions.

BEST ACTOR
Here's where I'm a lot more confident in the upset factor: Demián Bichir hasn't won jack most of the year, but ask around in awards circles and he's the one guy everyone loves. Well, they love Jean Dujardin and George Clooney, too, but they love Bichir a little... different. The truth is that where a lot of observers are tripping over each other to taxonomize the trends in this year's race (nostalgia? Francophilia?), a parallel, white-Academy-guilt reality suggests recognizing stand-ins for the social underclass. The same voters who are rallying for Viola Davis over Meryl Streep are facing a decision Best Actor as well, and Dujardin's precursor triumphs aside, I don't see why Bichir (who, by the way, is also good in the film) persists as such an also-ran under the circumstances.
Will win: Demián Bichir, A Better Life
Should win: Brad Pitt, Moneyball

BEST ACTRESS
For not only the quality of her performance but also her unerring class, grace, and eloquence evinced one step after another all awards-season long, Viola Davis, this one's for you.
Will win: Viola Davis, The Help
Should win: Viola Davis, The Help

BEST SUPPORTING ACTOR
I love Christopher Plummer — sincerely — and I remain pretty certain that he will win. Nevertheless, does the Academy really have the heart to shaft Nick Nolte again — especially after that whole Moby Dick-off-the-wagon scene in Warrior? If Nolte doesn't win, we'll be laughing at that sequence for the rest of our natural lives. Only Oscar can rescue its solemnity now. Academy, do your worst.
Will win: Christopher Plummer, Beginners
Should win: Nick Nolte, Warrior

BEST SUPPORTING ACTRESS
Does anyone care about this "race" anymore? Did they ever? It's Jacki Weaver's world and we're still living in it.
Will win: Octavia Spencer, The Help
Should win: Anyone's fine, really

And the rest.... feel free to mark those ballots in ink:
BEST ORIGINAL SCREENPLAY
Annie Mumolo and Kristen Wiig, Bridesmaids
BEST ADAPTED SCREENPLAY
Stan Chervin, Aaron Sorkin and Steven Zaillian, Moneyball
BEST ANIMATED FILM FEATURE
Rango
BEST FOREIGN-LANGUAGE FEATURE
A Separation, Iran
BEST ART DIRECTION
Laurence Bennett, Robert Gould, The Artist
BEST CINEMATOGRAPHY
Emmanuel Lubezki, The Tree of Life
BEST COSTUME DESIGN
Lisy Christl, Anonymous
BEST FILM EDITING
Christopher Tellefsen, Moneyball
BEST MAKEUP
The Iron Lady
BEST ORIGINAL SCORE
Ludovic Bource, The Artist
BEST ORIGINAL SONG
"Man or Muppet," The Muppets
BEST SOUND EDITING
War Horse
BEST SOUND MIXING
War Horse
BEST VISUAL EFFECTS
Rise of the Planet of the Apes
BEST DOCUMENTARY FEATURE
Paradise Lost 3: Purgatory
BEST DOCUMENTARY SHORT
Saving Face
BEST LIVE-ACTION SHORT
Tuba Atlantic
BEST ANIMATED SHORT
The Fantastic Flying Books of Mr. Morris Lessmore
PREVIOUSLY
Stephanie Zacharek's Oscar Predictions
Otis the Oscar Cat Predicts Best Picture
Follow S.T. VanAirsdale on Twitter.
Follow Movieline on Twitter.