Oscar Chat: Get to Know This Year's Best Animated Feature Nominees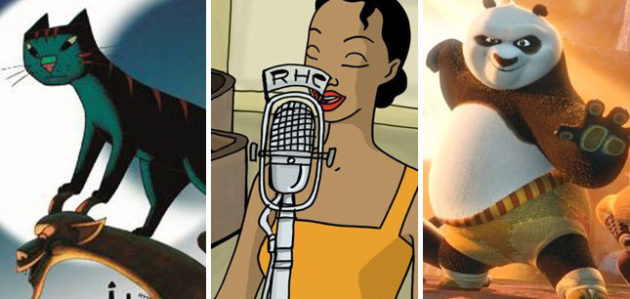 When the Academy announced its nominations last month for Best Animated Feature, two waves of surprise washed over Oscar watchers: Not only was Pixar left out in the cold for the first time in its history, but also two lesser-known films from abroad made the cut in the category: the noir-y French entry A Cat in Paris and the Spanish-language jazz-romance Chico and Rita. The directors of those films, along with Kung Fu Panda 2 helmer Jennifer Yuh Nelson, one of few female directors nominated this year, spoke with Movieline about the recognition from the Academy, technologies such as 3-D and motion capture, and their Oscar night excitement.

So get to know three of the filmmakers from the animation community who could go home with a trophy on Sunday: For A Cat in Paris we have Alain Gagnol, who co-directed with Jean-Loup Felicioli, and for Chico and Rita we have Fernando Trueba, who directed along with Tono Errando and Javier Mariscal. (Fellow nominees Chris Miller [Puss in Boots] and Gore Verbinski [Rango] were not available to participate.)
Animation nominees seem to have the most fun at the Academy Awards. What are you looking forward to most on Oscar Sunday?
GAGNOL: Actually, Hollywood is the opposite of my world, so everything is amazing, incredible, and funny. But the most impressive part is to see, at the reach of my hand, some of my favorite directors. Scorsese and Spielberg gave me the desire to make movies. They gave me the strength to make my dreams come true.
NELSON: I'm looking forward to a whole lot of people-watching. And going on a seriously cool date with the husband.
TRUEBA: Well, being nominated is already a big prize for us. I didn't know the animation nominees were supposed to have the most fun?
How do you feel about the Best Picture category being expanded to nine films but having animation shut out?
GAGNOL: For too many people, animated films are not genuine cinema. But I don't think that is the problem here. I have to admit that without young children, most adults are not going to watch animated movies. They are concerned these films won't have anything for them, and they will be bored. I also think that because there's no such thing as a human face in animated cinema, seeing the actors and actresses in live-action films are very fascinating for the audience, and they may not think they have those celebrity images to relate to.
NELSON: I think that the movies nominated are very deserving, and that the number spices it up. I would love to see animated films widen from a realm reserved for family entertainment and become just a technique used in all ranges of cinema. Once that happens, I think it will show up regularly in all categories.
TRUEBA: I didn't like it. To me [more nominations] is a wrong decision, and I don't know anyone who prefers it this way. I think the most important prize has lost a lot of his charm. It's almost impossible to know all of them. Too, too many. It's much better [with] five.
Do you see the Academy's recent rule about motion-capture films as an attempt to emphasize traditional hand-drawn animation?
GAGNOL: Computers are so useful that they tend to be everywhere. But they are perfect, and the limits of life are not an issue for them. Therefore, sometimes human beings seem to have been forgotten in the process. Hand-drawn animation is far from perfect but we can feel the sensitivity of the animator. But I don't think that one kind of animation is better than the other one. After all, the most important thing is the story we want to tell. Computers are still not able to write stories.
NELSON: The films chosen show a wide range of techniques, not just hand-drawn. Three of them are CG, so it's nice to see that such different films were recognized. But computer or not, these films were created frame-by-frame by animators. Some mo-cap is so heavily worked by animators that it may as well be full animation. Whereas others are very automated. The question then becomes one of artistry.
TRUEBA: Maybe, animation has today many different techniques and approaches. And it is not easy to dictate the rules now to such a complex field. But maybe something should be done. 
Several live-action and animated films nominated this year, including top nominee Hugo, were released in 3-D. In your view, does 3-D help or hurt a film's chances of taking home an Oscar?
GAGNOL: I'm not a great fan of 3-D movies. In my opinion, it doesn't bring anything really interesting to cinema. A well-composed picture can give all the feelings needed by a story. When a movie is good, you already have the feeling of being a part of it.
NELSON: 3-D is a cinematic tool that can be used or abused. Used well, it is a true enhancement of the film. I enjoy seeing the boundaries being pushed on how we can simulate an immersive experience. Like surround sound, immersive picture can really make you feel the film all the more. But it has to be done well.
TRUEBA: I really hate 3-D. This stuff is invented every decade and after a while, people get bored of it. For me 3-D makes movies lose their nature. It's just for children and people who go occasionally to movies. Real moviegoers don't need 3-D. And personally I can't see 3-D. I'm strabic!!!
Maybe you can assist some moviegoers in filling out their ballots: Who will win for Best Animated Short film?
GAGNOL: I'm sorry I can't answer that question because I haven't yet had the opportunity to watch these films.
NELSON: Oh please, I may be working for some of these people someday. I don't want any of them mad at me.
TRUEBA: La Luna.
Who is accompanying you to the ceremony?
GAGNOL: As I am coming from France, I think my jet lag will be with me all along.
NELSON: My sweet husband will be with me, making sure I don't trip in my heels. Also, since DWA has two films nominated, there will be a posse of great people including Melissa Cobb the producer of KFP2, and Raymond Zibach, the very talented production designer.
TRUEBA: My friend and co-director of Chico and Rita, Javier Mariscal, and my wife and producer, Cristina.
How are you following this film? What projects are in the works?
GAGNOL: I am working on a new feature film. It's also a thriller for children but with an additional fantasy aspect. I have already worked on the script for more than two years, and Jean-Loup has drawn the first pictures. The action takes place in New York. One of the great advantages of making animated movies, as directors, is that we can go everywhere from our drawing table. 
NELSON: I'm developing something, but it's a secret at the moment.
TRUEBA: I just finished a new movie, The Artist and the Model, my first movie in French, featuring Jean Rochefort, Aida Folch and Claudia Cardinale.
MORE 2012 OSCAR ROUNDTABLES AND CHATS
Best Cinematography
Best Costume Design
Best Documentary Feature
Best Foreign-Language Feature