REVIEW: Paul Rudd Helps Keep Sweet, Affable Wanderlust on Track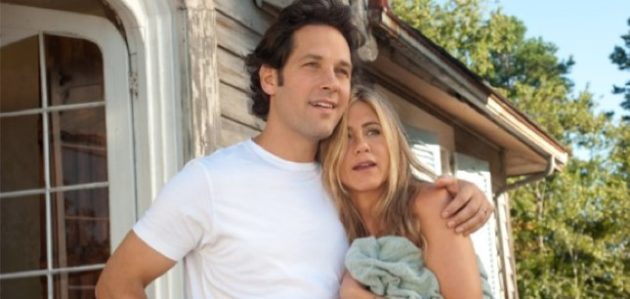 The title of David Wain's latest directorial effort suggests more direction than its urbanite couple George (Paul Rudd) and Linda (Jennifer Aniston) really have. "Wanderlust" indicates feeling an urge to seek out new pastures, but when the pair end up on the road it's only because they've been forced there, unemployment sending them plummeting out of their Manhattan lifestyle like satellites knocked from their orbits. George works in an office and Linda has so far just bounced from whim to whim -- her most recent unsuccessful venture is a documentary about penguins with cancer -- and the two have scraped together the cash to buy what their real-estate agent euphemistically calls a "microloft" in the West Village. They can't sell the tiny apartment, and they can't afford to keep it when George loses his job and HBO turns down Linda's film for being depressing (and not sexy depressing), and so they end up slinking down to Atlanta in defeat to stay with George's bullying brother (Ken Marino) and stumbling across bed and breakfast/commune Elysium on the way.

When you try your hardest to carve out a life for yourself somewhere, only to abruptly end up with nothing to show for it years later, the desire to just drop out of the whole race makes a lot more sense. Wanderlust is an agreeable comedy that peters out halfway through, but it presents a believable case for why two people with no innate hippie impulses would become infatuated with and join life in a rural collective or, as its charismatic leader Seth (Justin Theroux) insists on calling it, an "intentional community." Wain's film, which he wrote with Marino, presents a pair of dimensional, empathetically drawn characters in George and Linda, two people who when finally made to take time for introspection realize how many grievances and unhappinesses they've been burying inside themselves. None of the other characters are close to as fully realized, whether they be patchouli-wafting free-love advocates or depressed, alcoholic suburban housewives, and the film tends to abruptly downshift whenever its focus moves from George and Linda to something else, like a late, perfunctory plotline in which Elysium is threatened by local developers who want to bulldoze it in order to build a casino. It's funny and sweet when it's about a couple trying to figure out their place in the world, and for the most part broad and too easy when looking for laughs in Elysium's day-to-day philosophy.
As a director, Wain has earned his place on the cult comedy pantheon with 2001's Wet Hot American Summer, which built a following after bellyflopping into theaters over a decade ago. Wanderlust is more standard issue than that one, lacking its abrasive elements but also seeming unlikely to improve with repeated viewings. It's initially George's idea to return to Elysium and give life there a two-week test drive, but it's Linda who really takes to it, and the midsection of the film is episodic and hit-or-miss as Linda embraces life as a poncho-wearing flower child and catches Seth's eye while George grows disillusioned with truth circles and sharing everything. Some of the scenes -- a hallucinogenic trip on ayahuasca tea or strategic displays of wine-making nudist Wayne's (Joe Lo Truglio) prodigious penis -- are funny, but others, including many with Theroux's bloviating New Age guru whose knowledge of the outside world drops off after the '90s, fall flat. Wanderlust's comedic interest in Elysium and its inhabitants seems to go as far as George's attachment to the place. It's great to visit, but it's not long before you want to leave.
Wanderlust has the ease of a film that's reuniting people who've worked together before: Besides the presence of aforementioned The State alums Lo Truglio and Marino, it also has Kerri Kenney-Silver as flaky Elysium matriarch Kathy and small appearances from Michael Showalter and Michael Ian Black, who form a mini Stella reunion with Wain as news anchors whose banter is less than TV-appropriate. Rudd and Aniston, who co-starred in 1998's The Object of My Affection and shared the small screen on Friends, also have a comfortable chemistry, seeming feasibly like two people who love each other but who've never before had to subject their relationship to any kind of stress test. Rudd's particularly good when playing someone aware of but unable to remedy how out of his element he is -- in the midst of a hilariously glazed-eyed high, he plays the didgeridoo and  bonds with fellow pot-smoker Rodney (Jordan Peele) and his pregnant girlfriend Almond (Lauren Ambrose), but in the bright light of day has trouble dealing with his inability to fit in. He has a guitar duel with Seth over who's better at playing "Two Princes," he can't poop when everyone keeps coming into the doorless bathroom to talk to him, and he's unsure how to deal with the open-relationship advances of Eva (Malin Akerman) -- "No way!" he responds when she describes her particular bedroom skill. It's Rudd who provides the tenuous through-line that holds together this scattered ramble of a film, by realizing that there's a middle ground between high-rise living and a cooperative farm, and that it's where most people end up.