Can Battleship Strengthen Rihanna's Image, Post-Chris Brown?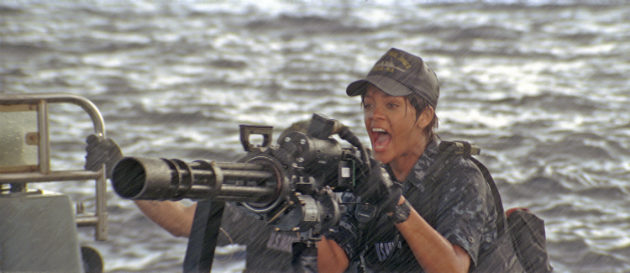 A new batch of Battleship stills show singer-turned-actress Rihanna in Navy gear manning all manner of combat machinery as the resident weapons specialist in Taylor Kitsch's crew. But can her feature debut in Peter Berg's summer blockbuster counteract the criticism she's getting from reuniting, at least professionally, with Chris Brown?

The stills (below, via Universal and Digital Spy) hit the web at a conspicuous time for Rihanna, who was assaulted in 2009 by then-boyfriend Brown. After a three-year split, during which time Brown was sentenced to domestic violence counseling and community service and ordered to stay away from Rihanna by restraining order, the two collaborated on a pair of songs released this week.
According to producer The-Dream, who oversaw the "Birthday Cake" remix featuring Brown, the move was Rihanna's idea. "The true thing really is to forgive," he explained to Billboard Magazine. "And ... you want to believe in people."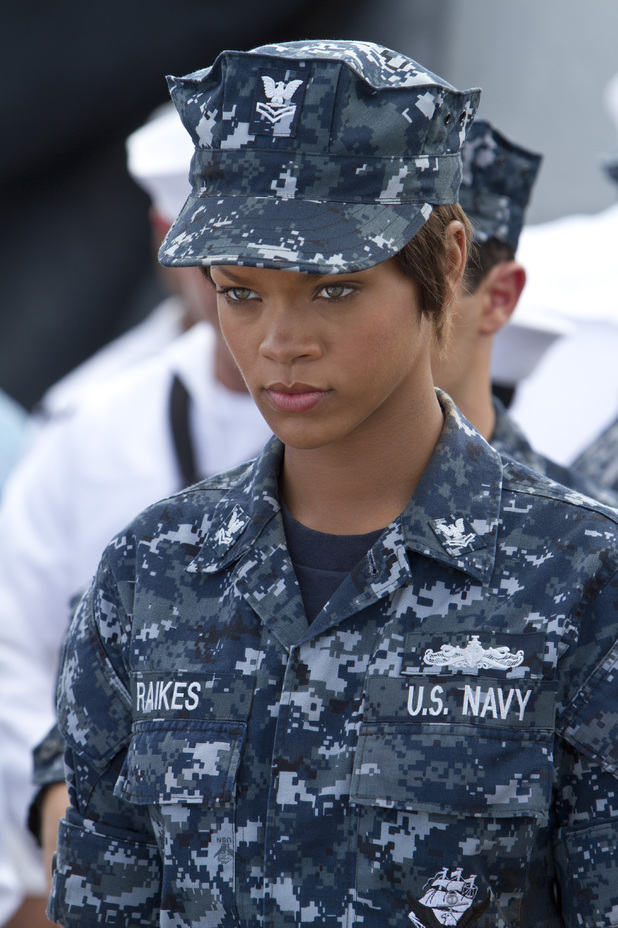 Some celeb-watchers take the reunion as more than just a professional expression of forgiveness. "The message couldn't have been clearer to the world," writes Hollywood Life's Bonnie Fuller. "We're a couple again and we're saying it in the strongest way that we know how -- through our music."
That seems like a bit of a stretch, but whatever the relationship, many fans who supported Rihanna as she bounced back from the public fallout of the 2009 incident are understandably upset that the 24-year-old would unite on any front with her former attacker.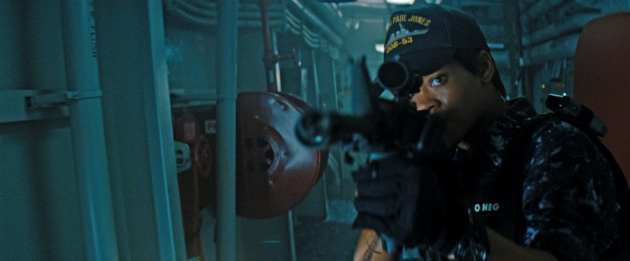 Enter Battleship. Over a year after the assault, Rihanna was cast as Petty Officer Raikes in Universal's naval actioner. She'd been looking to break into film already, telling MTV in 2008 that she was looking "seriously" into making her acting debut. Battleship, then, provided a prime opportunity; as Raikes, Rihanna gets to play a strong, serious-minded character involved directly in action sequences whom she's described as "one of the guys" -- as opposed to the film's eye candy, as embodied in Brooklyn Decker as Kitsch's love interest.
That character quality alone may have been reason enough to break into a side career in acting with Battleship, but it also allows Rihanna to project an image of strength and resilience to her fans. At the helm of a gunboat or wielding assault rifles, she is seen in a position of control and dominance, the would-be executor of violence (against aliens, in this case) instead of a victim.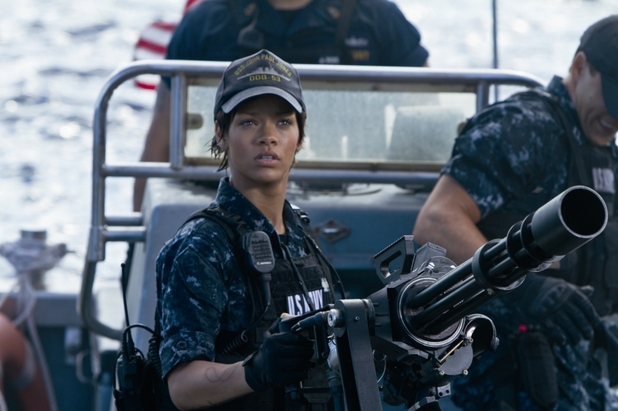 Of course, that's not to say Battleship will erase the image of Rihanna, battered and bruised, from our collective memories. It certainly shouldn't, in the least. And it's not quite a pointed personal statement that, say, a G.I. Jane or a Brave One-styled vigilante pic might be; it's a subtle move that simultaneously eases first-time actor Rihanna into the movies in a supporting role with more seasoned actors around to do the heavy lifting.
Conspicuous as it is that new Rihanna-holding-guns images were released into the world around the same time as her Chris Brown collaborations (joining a few more that were previously released by Universal), it hints at an effort to protect her image from the backlash that any Brown-related association invites. But Battleship has yet to be seen, and Rihanna, who hasn't yet directly addressed the Brown collaborations, may yet still win back or further alienate her following in the weeks to come.