20 Years of Crap That Opened on Oscar Weekend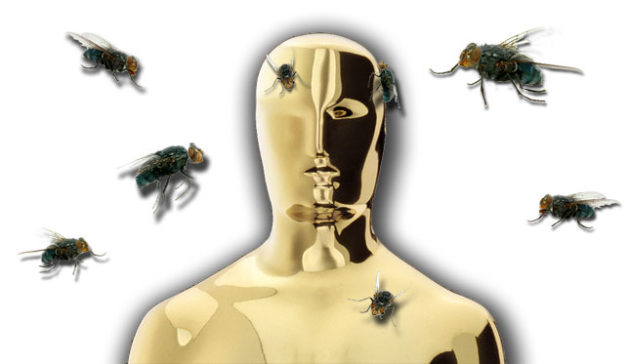 As the Academy and its guests gather Sunday to enthusiastically slap congratulatory-calloused backs at the Oscars, an altogether different condition will overtake multiplexes nationwide. There, audiences will be confronted by a one-joke hippie comedy with Paul Rudd and Jennifer Aniston (Wanderlust), an Amanda Seyfried thriller withheld from critics before opening day (Gone), the Navy SEAL recruitment effort (Act of Valor), and frequent Oscar week performer Tyler Perry, departing from his matriarch Madea for a change (Good Deeds). 



Such a weak field is hardly an anomaly; the first months on the calendar historically are the wasteland of the release schedule, sitting in sharp contrast to the Academy's annual celebration of cinematic "greatness." A curious paradox is normally in play — at the time Hollywood crows about its best, it often serves up some of its worst. To gauge this phenomenon — and display the movie industry's staggering self-unawareness — here is a look back at what has been foisted on the public during the last 20 years of Academy Awards weekends:


· 83rd Academy Awards (2011): Last year the tepid comedy Hall Pass debuted at No. 1, while ex-Oscar heavyweight Nicolas Cage offered up his pulpy 3-D actioner Drive Angry, which could only reach No. 9.


· 82nd Academy Awards (2010): A rare occurrence of a quality, popular effort as Disney's Alice in Wonderland opened to nearly $150 million in business, while the sprawling cops-and-gangs saga Brooklyn's Finest lagged well behind.
· 

81st Academy Awards (2009): Tyler Perry's enduring hits continued with Madea Goes to Jail. Also featured was the roundly ignored comedy Fired Up — perhaps best-known for sporting the poster that basically said F-U to audiences.
· 

80th Academy Awards (2008): Convoluted espionage thriller Vantage Point, with one-time Oscar king Forest Whitaker, debuted at No. 1, outpacing the forgettable comedy Be Kind, Rewind at a distant No. 8. Also languishing were Larry the Cable Guy's Witless Protection, and Charlie Bartlett, both showing on over 1,000 screens and landing well out of the top 10.


· 79th Academy Awards (2007): Tellingly, no new release could manage to unseat Ghost Rider from the top; Jim Carrey's failed thriller The Number 23 did best, Reno 911: Miami barely registered, and Warner Brothers put Billy Bob Thornton's The Astronaut Farmer in 2,000 theaters, where it crash-landed at No. 10.


· 78th Academy Awards (2006): Remember the Bruce Willis/Mos Def pairing 16 Blocks? That was an Oscar weekend debut. Also forgotten were Ultraviolet, the mermaid tale Aquamarine, and just to extend the execrable color theme, The Pink Panther in its fourth week.


· 77th Academy Awards (2005): Tyler Perry had his first big-screen hit with Diary of a Mad Black Woman. Then came the failed horror title Cursed, which sparked Wes Craven's self-imposed sabbatical from filmmaking. Worse still was the dreadfully unfunny Man of the House, featuring once-proud Oscar-winner Tommy Lee Jones.


· 76th Academy Awards (2004): Mel Gibson's pet project The Passsion of Christ shocked the world en route to $600 millon global, while Ashley Judd offered up the formulaic Twisted, the useless sequel Dirty Dancing: Havana Nights did little business, and the blatantly ignored comedy Club Dread did little of anything.


· 75th Academy Awards (2003): Possibly the weekend with the biggest departure from Oscar greatness. How did Bringing Down the House remain unseated after three weeks? It was challenged by anal-breaching aliens in Dreamcatcher and an unfunny airline farce with Oscar-winner Gweneth Paltrow called View from the Top. The most blatant affront to Academy excellence came via the hate crime called Boat Trip, starring Oscar exile Cuba Gooding Jr.


· 74th Academy Awards (2002): The vampire sequel Blade 2 earned some attention, joined by the 20th anniversary reissue of E.T, and the roundly bypassed cross-dressing comedy Sorority Boys.


· 73rd Academy Awards (2001): Sigourney Weaver and Jennifer Love-Hewitt sat at the top with a memory-defying lark called Heartbreakers, largely unchallenged by a familial outing called The Brothers and the Chris Klein implied-incest comedy called Say It Isn't So.
· 

72nd Academy Awards (2000): Romeo Must Die was not strong enough to oust Erin Brockovich from staying on top. Another Chris Klein misfire, Here On Earth, begged for attention, and so did the early James Franco contemporary Cyrano update called Whatever it Takes.
· 

71st Academy Awards (1999): Trophy winners Sandra Bullock and Ben Affleck tried to fake chemistry in Forces of Nature, while Clint Eastwood trailed behind with True Crime. Add the animated remake of The King & I to the mix for bad measure.


· 70th Academy Awards (1998): As Titanic steamed along at the Oscars and the box office alike, drowning in its wake were the political misfire Primary Colors, the sexy thriller Wild Things and Jackie Chan as Mr. Nice Guy. 


· 69th Academy Awards (1997): Jim Carrey took the stage at the Oscars to present, mugging to the crowd as he touted how well his Liar, Liar had performed that weekend. It also marked the transformation of Jennifer Lopez from Fly Girl into thespian with her biopic Selena.


· 68th Academy Awards (1996): Few showed up for Sharon Stone's remake of Diabolique as it placed a distant third (clearly in need of a nude scene), and Spike Lee's Girl 6 was roundly ignored.


· 67th Academy Awards (1995): Living up to its name was the Damon Wayans comedy Major Payne, which nevertheless did better than the Stephen King adaptation Dolores Claiborne. Alas, neither could surpass Outbreak in its third week of release. Disney's Tall Tale was an also-ran.


· 66th Academy Awards (1994): The franchise parody Naked Gun 33 1/3 was a modest hit. A young Thora Birch was not as fortunate: Her animal slapstick outing Monkey Trouble (exec-produced by three-time nominee Ridley Scott) was barely seen. 


· 65th Academy Awards (1993): Melanie Griffith and Don Johnson unveiled their vanity project Born Yesterday, yet still could not topple the third iteration of the Teenage Mutant Ninja Turtles. Best Actress winner Marlee Matlin was also in a forgotten thriller, Hear No Evil, which must have sounded better on paper.


· 64th Academy Awards (1992): White Men Can't Jump did relatively well. Still, there was plenty of dismay to be had in the Rodney Dangerfield embarrassment Ladybugs. Doing even worse: the ice skating romance The Cutting Edge.
Brad Slager has written about movies and entertainment for Film Threat, Mediaite, and is a columnist at CHUD.com. His less insightful impressions on entertainment can be found on Twitter.
[Photo illustration: Movieline via Shutterstock/AMPAS]