Warner Bros. Somehow Planning Another I Am Legend for Will Smith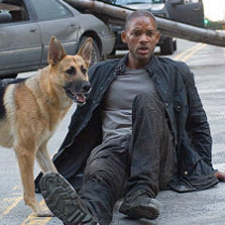 At one point following the critical and commercial success of his 2007 post-apocalyptic blockbuster I Am Legend, director Francis Lawrence entertained the notion of coming back with star Will Smith for prequel, but eventually that possibility trailed off and Lawrence casted doubt onto his involvement with the potential project. But today Warner Bros. announced a deal with Akiva Goldsman and Overbrook Entertainment, who have tapped screenwriter Arash Amel to write a follow-up to the $584M hit. Whether or not it'll be a prequel or some sort of direct sequel is unknown, though it's reportedly being created for Smith. Let's speculate away: Just how WB can possibly pull off another installment?

What makes the project a curious -- and, frankly, conspicuous -- one is the way in which Lawrence wrapped up I Am Legend, based on Richard Matheson's 1954 sci-fi novel. [Spoiler alert] Following a global pandemic that wiped out 90% of the world's population, scientist Robert Neville (Smith) had only just discovered a cure when, at the film's conclusion, he faced an onslaught of mutated vampire-people solo and seemingly met his own demise.
Of course WB wants their star and his famously potent box office draw to headline another I Am Legend movie. A prequel would explain Smith's presence most easily, but Deadline suggests that won't be the case. So how might they bring Smith back otherwise? Retcon the last scene in the first film, using the alternate ending in which Neville makes grudging peace with the vampire thingies? Maybe the survivors colony has cloning capabilities? Hell, why not bring in a long-lost twin brother for Neville who became a brilliant virologist as well - I Am Also Legend?
Whatever it turns out to be, at least it has a shot at being "one of the greatest movies ever made," amirite?
Warner Bros Plans More 'I Am Legend' With Will Smith [Deadline]