John Carter Producer: Pixar Backlash to Blame for Cars 2 Oscar Snub?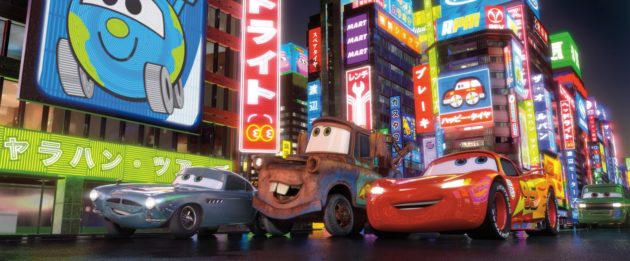 Last summer's Cars 2 marked a notable footnote in the history of Pixar Animation, just not a good one; despite opening to the studio's sixth-highest worldwide take to date, the sequel to 2006's Cars earned middling reviews, prompted critics to deem it a commercial cash-grab, and eventually – maybe most shockingly, given the studio's track record – became the first Pixar film not to nab an Oscar nod for Best Animated Feature since the category was inaugurated. Could it be, as Pixar producer Lindsey Collins suggests, that Cars 2 was Oscar-snubbed because of anti-Pixar backlash?

Speaking with press today in Phoenix, Arizona for John Carter, which she produced for longtime Pixar collaborator Andrew Stanton, Collins assessed why Cars 2 was overlooked in favor of five other animated films (A Cat in Paris, Chico and Rita, Kung Fu Panda 2, Puss in Boots, and Rango).
"The fact that [Cars 2] was a sequel -- in a way it's funny, because obviously from a franchise standpoint people love sequels," Collins explained. "And certainly from a franchise standpoint Cars 2 did insanely well, such that we can't even count it as a good metric to tell us whether or not to do sequels."
Sequel status aside, Collins surmised a larger reason was working against the John Lasseter-directed pic, which was the first Pixar film to earn an overall "rotten" score on Rotten Tomatoes. "I think it had the fact that Pixar has dominated going against it," she added. "At a certain point there was going to be somebody who was going to take the fall a little bit. It was going to be like, 'Eh, we don't like that one.'"
Then again, Cars 2's nomination miss could also be chalked up to the relatively deep field of animated films in the running for Oscar this year – many of which surprised Collins and defied her own expectations of the competition. "I see every single one of these things because my kids drag me to them all, and to me it felt like God, there are some great animated films this year. I actually had one of those, 'There's two hours of my life that I'm never going to get back' [thoughts], and then you walk out like, 'Actually, that was quite good!'"
Among the "great pictures" not spawned from Pixar that Collins had praise for? "I loved Rango," she admitted. "There were actually some great pictures this year."
As for the cold critical reception and accusations of crass commercialism Cars 2 received, Collins maintains that Lasseter "truly, truly loves" the sequel -- and Pixar, she says, supports the films its stable of directors want to make. "John loves that world, he loves those characters. We got accused of being very commercial with it and it's kind of funny, it's so ironic because if you've met John Lasseter there's not a disingenuous bone in that man's body."
Follow Jen Yamato on Twitter.
Follow Movieline on Twitter.