Berlinale Dispatch: A Chinese Epic and an Indonesian Zoo Tale Vie for the Jury's Favor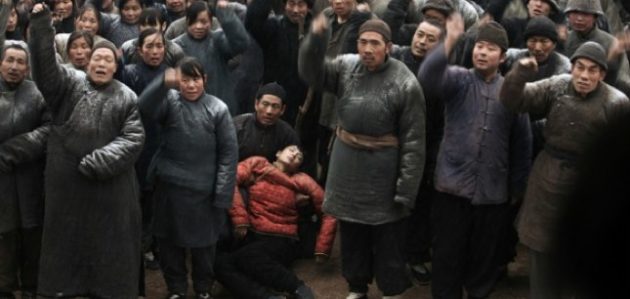 Today is the next-to-last day of competition screenings here at the Berlinale, which means people are speculating about a possible winner – to the extent that speculation is ever possible. This year's jury is headed by Mike Leigh, and at dinner the other night some friends and I were playing the "WWMLL" – What Will Mike Leigh Like? – game.

Voting for prizes is a democratic process, but the jury president can set the tone. Even so, it's hard to say, rummaging around in the Berlinale 2012 bag, what Leigh and co. might possibly go for. The critics' favorites so far seem to be Christian Petzold's Barbara, an unusual, slow-building drama set in 1970s East Germany, and Miguel Gomes' Tabu, an inventive melodrama that uses old-school movie conventions – and sensuous black-and-white cinematography – to weave a story of love and loss. But critics' favorites and a jury's choices don't necessarily align. At this point, the field is fairly open.
I'm wondering what a Mike Leigh-led jury will think about Postcards from the Zoo, by the young Indonesian filmmaker who goes by the name Edwin. Postcards is a gentle story, with a loose-jointed, somewhat impressionistic narrative structure, about a young woman, Lana (Ladya Cheryl), who spends her life in a Jakarta zoo, though she doesn't officially work there. She helps bathe the zoo's baby tiger; she knows many facts about the zoo's giraffes, which she shares authoritatively with the zoo's visitors; and, one day, she takes up with another zoo denizen, a magician-cowboy who turns her into his assistant and accomplice. (She dons an Indian-girl outfit and takes her place in his knife-throwing routine.)
During this meandering journey of self-discovery, Lana also becomes a massage girl at a spa, serving men who nonchalantly stop in for full-service satisfaction, complete with a happy ending (if they're willing to pay for it). The picture is gorgeously filmed – the early section really is a series of postcards, a gentle meditation on the zoo's peaceful, inspirational nature, including shots of a mother and baby hippo idling in a pool, and a droll little sequence in which Lana muses aloud about why one of the tigers won't eat. (She surmises that he feels sorry for the hens that become his dinner.) Postcards, Edwin's second feature, is so low-key that its emotional effects don't really linger – the picture is inconsequential, but it's also reasonably enjoyable, particularly for its pensive, low-key aura.
Wang Quan'an's White Deer Plain, on the other hand, is anything but low-key. This nearly-three-hour Chinese epic includes no real battle scenes and very little pageantry, but it does something that's perhaps harder to pull off: It wrestles with the changes and hardships that the country endured between 1910, the end of Imperial China, and 1938, the time of the Japanese invasion.
The story, an adaptation of a controversial historical novel by Chen Zhongshi, uses the power struggle between two village families – a struggle that's intensified by the woman, played by an expressive actress named Kitty Zhang Yugi, who enters their midst – as a means of talking about sweeping and painful change in China during the first half of the last century. The picture is gorgeous to look at — well, not the famine sections, but pretty much everywhere else. Wang has a weakness for showing, over and over again, the shimmering golden wheat fields that play a key part in the story, and they are beautiful. The human characters, unfortunately, often take a backseat to the scenery. They're cogs in the machinery of the country and in that of the movie, too – perhaps that's intentional, but it does keep White Deer Plain from being as involving as it might be.
So who knows, from what we've seen so far, what the Berlinale 2012 jury will go for? (The group also includes François Ozon, Jake Gyllenhaal, Anton Corbijn and Charlotte Gainsbourg, as well as Asghar Farhadi, the director of last year's Golden Bear winner A Separation.) A Hungarian picture that screened this morning, Bene Fliegauf's  Just the Wind, draws its subject matter from recent real-life horrors, in which several Romany families were murdered in their homes, the targets of racial hatred. The picture is harrowing, yet it's also somewhat detached – Fliegauf often works harder than he has to, maybe, to underscore the fear and anxiety visited upon the community in the wake of these murders. But the picture is topical, and that's sometimes a quality that makes a jury sit up and take notice. We'll see what happens on Saturday, by which time I'll have bid the Berlinale adieu for another year – though before that, I'll be checking back in with a look at Declan Donnellan and Nick Ormerod's Bel Ami, featuring the Pale One himself, Robert Pattinson.
Read more of Movieline's coverage from the 2012 Berlinale here.
Follow Stephanie Zacharek on Twitter.
Follow Movieline on Twitter.