Bullhead or Bust: How Drafthouse Films Went From From 0 to Oscar in 2 Years Flat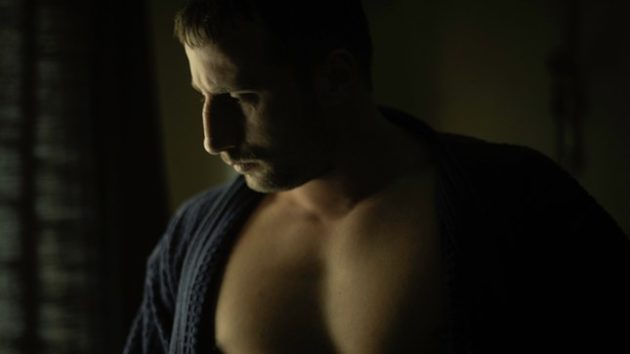 New to the distribution arena, Alamo Drafthouse co-founder Tim League became enamored of a small Belgian crime drama called Bullhead at the 2011 Cannes Film Festival. Less than a year later, he and his Drafthouse Films operation have an Oscar contender on their hands. Not too shabby for a company younger than the Obama administration.

Bullhead, from first-time feature director Michaël R. Roskam, centers on a contemptuous, troubled cattle farmer who is dragged into Belgium's bovine hormone mafia underworld. Lead actor Matthias Schoenaerts (pictured above) packed on 60 pounds of muscle for the complex, acclaimed role. The film made such an impression at Cannes that League lobbied "fiercely" to include it in the lineup for his venue's annual Fantastic Fest, despite its wide perception among viewers and industry alike as a sci-fi/horror/Asian genre showcase.
"We had to really convince them to show it at the festival," League told Movieline in a recent interview. "And it was after the festival and the great response that it had from our audience that we decided we wanted to make an offer on it for the label."
"The label," of course, is Drafthouse Films, a venture that grew out of the festival, which itself had been an evolution from programming the Alamo Drafthouse Cinema -- the Austin-based theater chain that League co-founded with his wife, Karrie, in 1997. The impresario saw distribution as a natural next step, commencing in 2010 with director Chris Morris's suicide-bomber satire Four Lions. "We realized that a lot of these films really didn't have an opportunity to find a great home for U.S. distribution," League said. "So we thought we were building an audience with the festival and we might as well build a label to walk alongside it with the same sensibilities." (Incidentally, Four Lions had closed Austin's flagship film fest, South by Southwest, six months earlier.)
For its second release, the distributor gave Bullhead a U.S. home and entered the Foreign-Language Oscar race in one fell swoop. "We really loved Bullhead, and there was just a strange set of circumstances that fell into place where we expressed our interest, and before we had the contract done it was Belgium's official entry to the Academy Awards, which kick-started the process," League said. "But even still, we knew we were a long shot. It's been wild to see it fall into place."
The Drafthouse team was at Sundance last month when the good news came through.
"We were watching the announcement live on television," League said. "And we got the nomination, and we celebrated and had a glass of champagne, then everybody just hunkered down at their computers for about five hours and set a lot of wheels in motion. We had to put the trailer together, the poster together, the ad campaign. We had to hire a bunch of folks to help us out with the process."
Those hires were made from preparations the team had already done for the film's distribution, but the nomination sped up the process. Drafthouse Films plans to release six films a year theatrically and on VOD, but it isn't following a set model each time. It has three films planned for this year so far: Bullhead, the subversive comedy Clown and SXSW favorite The FP.
Meanwhile, League admits Bullhead is an underdog at the Oscars -- particularly against A Separation, the Golden Globe-winning Iranian film that's also up for best screenplay. Nevertheless, he says, it's a category that has seen upsets and surprises. The Drafthouse team will be in Los Angeles to support the film on Feb. 26, throwing a Bullhead party on Oscar night. "Win or lose, we're super happy to be a part of it," League said.
Bullhead will be released in New York, Los Angeles and Austin on Feb. 17, with further expansion to come ahead of the Oscars.