Tune in Tomorrow for the 2nd Annual YouReviewer Awards!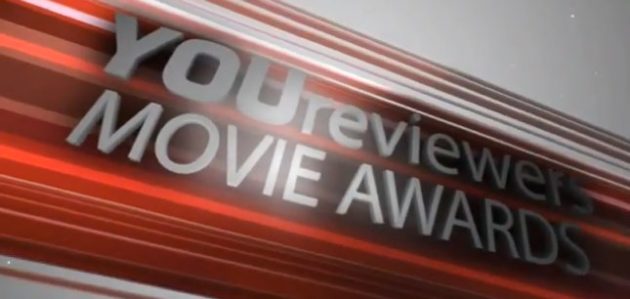 Break out the $5 bubbly and tuxedo tee-shirts: the 2nd Annual YouReviewer Awards are a mere day away, and our friends at ENTV are rolling out the red carpet as some of the biggest names on YouTube honor the year's best movies.

The YouReviewer Awards, hosted by YouTube superstars Jeremy Jahns and The Schmoes, gathers some of the most influential voices in online film criticism for a big, crazy celebration of the best of 2011 cinema. Fellow cinephiles Grace Randolph, Catherine Reitman and Chris Stuckman will co-host the event, and the winners will be decided by an esteemed panel of YouTube's notoriously opinionated film community
Don't miss a second of the action -- subscribe to ENTV today to catch the awards when they premiere tomorrow evening, and sound off on the results with the rest of the YouReviewer community.
The Schmoes Know YouTube Channel
The 2nd Annual YouReviewer Movie Awards
Presented by ENTV
Hosted by Jeremy Jahns and The Schmoes
With Appearances By
Brett Erlich (Viral Video Film School)
Grace Randolph (Beyond The Trailer)
Special Appearances by
Celebrity Appearances by
Johnny Knoxville
Katee Sackhoff
Iliza Shelsinger
Tom Arnold & Bonnie Somerville
Steve Rannazzisi
Bobby Lee
Chris D'Elia

2012 YouReviewer Award Nominees:
BEST PICTURE
Drive
50/50
The Girl With The Dragon Tattoo
Rise Of The Planet Of The Apes
The Artist
Harry Potter and the Deathly Hallows, Pt. 2
Hugo
The Descendants
Midnight in Paris
Warrior
BEST DIRECTOR
Nicolas Winding Refn (Drive)
David Fincher (The Girl With The Dragon Tattoo)
Martin Scorsese (Hugo)
Steven Spielberg (War Horse)
Michel Hazanavicius (The Artist)
BEST ACTOR
George Clooney (The Descendants)
Ryan Gosling (Drive)
Joseph Gordon Levitt (50/50)
Michael Fassbender (Shame)
Brad Pitt (Moneyball)
BEST ACTRESS
Rooney Mara (The Girl With The Dragon Tattoo)
Viola Davis (The Help)
Emma Stone (The Help)
Charlize Theron (Young Adult)
Michelle Williams (My Week with Marilyn)
BEST SUPPORTING ACTOR
Nick Nolte (Warrior)
Christopher Plummer (Beginners)
Albert Brooks (Drive)
Jonah Hill (Moneyball)
Andy Serkis (Rise Of The Planet Of The Apes)
BEST SUPPORTING ACTRESS
Octavia Spencer (The Help)
Shailene Woodley (The Descendants)
Elle Fanning (Super 8)
Melissa McCarthy (Bridesmaids)
Carey Mulligan (Shame)
BREAKTHROUGH ACTOR
Joel Courtney
Michael Fassbender
Ryan Gosling
Jean Dujardin
John Boyega
BREAKTHROUGH ACTRESS
Rooney Mara
Shailene Woodley
Berenice Bejo
Jessica Chastain
Brit Marling
BEST VILLAIN
Albert Brooks (Drive)
Voldemort (Harry Potter)
Kevin Bacon (X-Men: First Class)
Loki (Thor)
Bryce Dallas Howard (The Help)
BEST HERO
Rooney Mara (The Girl With The Dragon Tattoo)
Gosling (Drive)
Harry Potter
Moses (Attack the Block)
Caesar (Rise Of The Planet Of The Apes)
BEST TRAILER
The Dark Knight Rises Trailer 2
The Hobbit
The Girl with the Dragon Tattoo
The Avengers
Prometheus
MOST UNDERRATED FILM
Warrior
The Adjustment Bureau
Win Win
Hanna
Attack the Block
THE I'M SHOCKED IT DIDN'T SUCK AWARD
Real Steel
Fast Five
Rise Of The Planet Of The Apes
MI:4: Ghost Protocol