Talkback: What's the Most Romantic Film of All Time?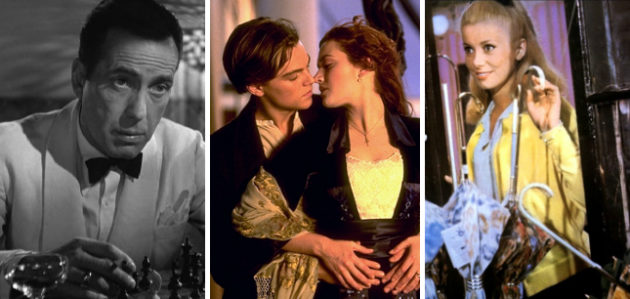 It's Valentine's Day, lovebirds -- time to hash out some passionate debate over the films that get your pulse racing and make your chest heave, the romances that get your hankies flying and fill your hearts (and your loins!) with longing. Whether you're planning the perfect V-Day date or preparing to love vicariously this Valentine's Day, chime in and tell us which of cinema's greatest love stories hits you the hardest. Let's start with a classic, shall we?

Casablanca's been named AFI's greatest American love story of all time, and it's hard to argue the choice; few films have managed to capture the heartbreak and sacrifice of love than Michael Curtiz's 1943 romance. The lyrics "You must remember this/a kiss is still a kiss" still conjure the magic of place and time captured at Rick's Café Americain, where Humphrey Bogart and Ingrid Bergman are propelled into each others' arms in the midst of war, only to be parted again. Sigh.
For a long while my favorite romance was An Affair to Remember, the Cary Grant-Deborah Kerr tale that spawned many a fateful meeting at the Empire State Building (and itself was remade from director Leo McCarey's Love Affair). It was a movie that insisted that no matter what disfiguring, horrific accident befell you, your partner would love you just the same. Swoon! But then I saw Sleepless in Seattle and got annoyed that Meg Ryan and Tom Hanks were co-opting the classic. Thanks, but no thanks.
Ghost features some deliciously melodramatic lovemaking (oh, pottery) and the added layer of emotion that stems from death coming between two soulmates. Ditto Titanic, which taught a generation of lovers to never let go. At any cost. EVEN IF YOU'RE FREEZING TO DEATH SO YOUR GIRLFRIEND CAN FLOAT TO SAFETY ON SOME SHRAPNEL. Downside to Titanic worship: You'll just get that damned Celine Dion song stuck in your head again, which is pretty much how I spent all of 1997.
Alternately, you may opt to go the lighter route, John Hughes-style, with a selection along the lines of the underrated teen romance Some Kind of Wonderful -- the movie that promised tomboys everywhere that our crushes would come to their senses sooner or later and taught boys that meaningful diamond stud earrings (okay, and reciprocated heart flutters) are a quicker way to a young woman's heart than waking up a girl by blasting Peter Cetera outside her window. I mean, that works, too, but it takes at least one montage more to get to happily-ever-after.
Then there's the entire oeuvre of weepie specialist Nicholas Sparks, who never met a love story he couldn't ruin with gut-wrenching tragedy. The Notebook? SHE CAN'T REMEMBER HIM! A Walk to Remember? SHE'S DYING! Pass the tissues and hit rewind!
My favorite film of all time, and one of the most heartbreaking movies about love ever made, is Jacques Demy's The Umbrellas of Cherbourg -- a movie that could also be considered an anti-romance, depending on how you look at the world and how much you perversely enjoy the visceral sting of heartbreak. Candy-colored palettes and entirely sung dialogue mask this tragically sad tale within the trappings of a musical melodrama, but the stark realities of life and love lost sneak up on you in the film's final moments when former lovebirds Genevieve (Catherine Deneuve) and Guy (Nino Castelnuovo) meet again by chance on Christmas Eve. After pledging their undying love to one another as youths, they've both moved on -- even if the memory of what they once had still lingers. It's something like a French '60s cinema equivalent of an Adele song, devastating and gorgeous and felt all the more deeply because we feel, acutely, what's been lost and what might have been.
But you tell me, folks -- which are your favorite, go-to, can't miss tales of love, lust, romance, and longing? (And what will you be watching on Valentine's Day?)
Follow Jen Yamato on Twitter.
Follow Movieline on Twitter.