Guess How Much Chris Pine Allegedly Made for This Means War?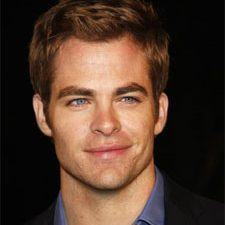 How's this for a dramatic break-up story? After a nine-year relationship with SDB Partners, Chris Pine opted to part ways via email. Having worked with the actor for pretty much his entire career to date, during which time he rose from guest slots on ER and CSI: Miami to nabbing Star Trek and this week's slick rom-com This Means War, Pine's former agents weren't going to be dumped so easily; they're suing Pine for millions in back- and future-commissions with a lawsuit that puts his salaries on blast. All of which means that today we get to play "Guess That Salary - Chris Pine Edition!"

As you ponder the fiscal worth of Pine's charm, chops, and star power, consider the trajectory his career has taken since his film debut in 2004's The Princess Diaries 2: Royal Engagement. I recall feeling compassion for Pine when, in 2006, he found himself stuck opposite Lindsay Lohan in Just My Luck and playing a sightless virgin in Blind Dating; can't say his agents were doing a great service for him with those unfortunate turns. But then came Smokin Aces, with Pine near-unrecognizable as the eldest Tremor brother, and within a few years Pine landed the career-making role of Captain James T. Kirk in J.J. Abrams' Star Trek.
Still, Star Trek fame wasn't enough to help Pine open the long-delayed horror pic Carriers in the fall of 2009, but soon enough he found himself sharing the screen with Denzel Washington (and a runaway train) in Unstoppable, which boosted his profile. Now he's billed along with fellow up and comer Tom Hardy and Reese Witherspoon in the love triangle spy romance This Means War, a slick $70M Valentine's week offering from McG which in the very least showcases Pine's pretty blue eyes, comic timing, and leading man swagger.
And according to the SDB lawsuit (obtained by The Hollywood Reporter), these last few years of rising stardom have brought Pine to quite an enviable place: For This Means War he was reportedly paid $5 million. (Unstoppable nabbed him a $3 million paycheck, while he's set to earn a base salary of $4 million, $8 million, and $12 million for the planned Jack Ryan series.)
What say you, Movieliners? Is Pine's star rising in accordance with his salary?
Chris Pine Sued By Former Agents; 'This Means War,' 'Star Trek 2' Salary Revealed [THR]