Exclusive Clip and New Images from Single-Location Thriller ATM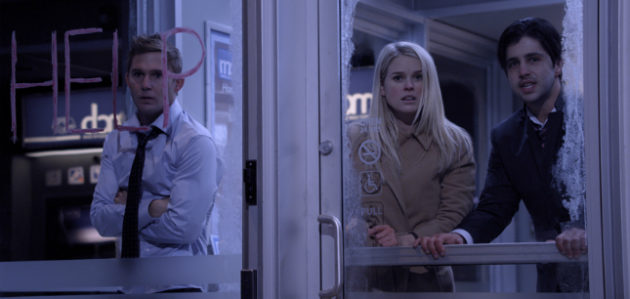 Three pretty young friends find themselves trapped by a shadowy stranger -- in an ATM vestibule! -- in David Brooks' directorial debut, ATM. Get a glimpse of the single-location thriller, from the writer of Buried, in an exclusive clip and new images.

Josh Peck, Alice Eve, and Brian Geraghty star in ATM as a trio of co-workers who find their late-night stop off for cash interrupted by a menacing figure who stands between them and sweet, sweet freedom.
ATM debuts on March 2nd on VOD and select digital outlets (SundanceNOW, iTunes, Amazon, Xbox) before opening in theaters on April 6.
Want more? Check out three new images from the film and ponder how bad things will get for our intrepid heroes in that freezing cold vestibule...