Exclusive: Celebrate Valentine's Day with Mondo's 25th Anniversary Princess Bride Poster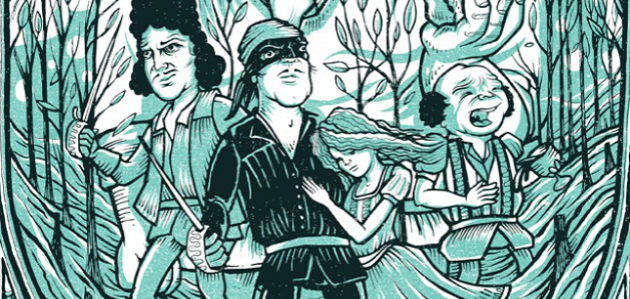 A collectible poster debut from the boutique art purveyors over at Mondo is always an event, but this Valentine's Day Mondo and the Alamo Drafthouse have something in store so special it's almost... inconceivable! In celebration of the 25th anniversary of Rob Reiner's 1987 fantasy classic The Princess Bride, the good folks at the Drafthouse have created a line of Princess Bride-themed wines ("The Bottle of Wits") to coincide with a series of V-Day Princess Bride Quote-Along Feast events and a new illustrated commemorative poster by artist Drew Millward, which goes on sale today. Get the exclusive first look at Millward's poster design after the jump!


[Ed.: According to Mondo the Princess Bride posters have indeed been printed with the incorrect year and will be sold as planned, warts and all.]
Even 25 years after its debut, The Princess Bride, adapted from William Goldman's book of the same name, has sustained its place among the best-loved American romances and comedies; you'd be hard pressed to find a self-respecting film lover these days who can't conjure one of countless iconic lines from Reiner's film. (See Movieline's account of LACMA and Film Independent's magical Princess Bride live-read for further evidence.)
So it's kind of perfect that the Drafthouse will host the Princess Bride Quote-Along Feast events this week at its six theaters in Austin and Houston on Feb. 14, in San Antonio on Feb. 15, and in Winchester, Va. on Feb. 16. What better way is there to spend Valentine's Day than feasting on seared R.O.U.S. ("NY strip rubbed with telecherry peppercorn, mustard seed and espresso roasted medium rare in a pool of port demi, roast enoki mushrooms with mushroom risotto and grilled rapini") and MLTs (for which "the mutton is shaved paper thin") and toasting to "Twue Wuv" along with Westley, Buttercup and little Fred Savage?
Millward's whimsical Mondo poster (on sale at the Austin Quote-Along locations, printed in a limited run of 145) brings together the film's most iconic elements (the six-fingered man! The R.O.U.Ses!) and its central heroes, from Cary Elwes' The Man in Black to Robin Wright's Princess Buttercup, the bouffant-coiffed Spaniard Inigo Montoya, Andre the Giant's gentle Fezzik and Wallace Shawn's evil Vizzini, who was last seen laughing maniacally while sloshing a goblet of wine. Speaking of wine...
Inconceivable Cab and As You Wish White are the two varietals of Princess Bride wine available for order online ($28) at http://princessbridewine.com and at the Drafthouse locations starting today. The pairing of The Princess Bride with its own wine is an inspired concept that came from a brainstorming session by Drafthouse CEO Tim League and Co.:
"At the end of last year, we were thinking about ideas to do something really fun with our wine list at the Alamo Drafthouse Cinema. To solve that challenge, a group of us got together after work, opened a bottle (a time-honored Alamo tradition) and started to brainstorm our favorite movie scenes involving wine. Quickly The Princess Bride rose to the top. The Princess Bride is one of our all-time favorite films. It stands beside The Big Lebowski as a movie that I will ALWAYS watch and thoroughly enjoy revisiting when it comes on TV. The 'Battle of Wits' sequence between Cary Elwes and Wallace Shawn easily stands toe-to-toe with 'the Sideways Spit Bucket' and 'The Silence of the Lambs Chianti slurp' as wine's shining moment in film. We contacted the rights-holders and proposed a partnership to launch the product at the Alamo, and they were just as excited as we were. We are thrilled with the collectible bottle that Helms Workshop produced for us and think that fans of the movie will love it too. Although we can't print it on the label because of legal reasons, we also promise each bottle to most likely be iocane free."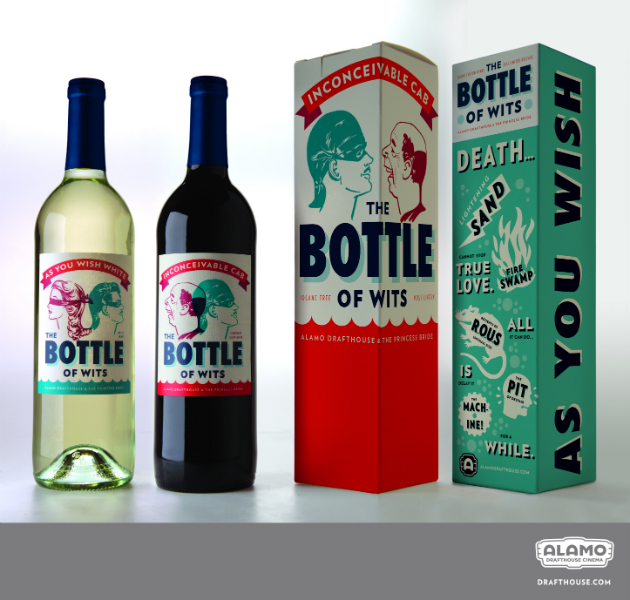 Get more info at the Alamo Drafthouse website.