Coming This March, Pauly Shore in Whiskey Business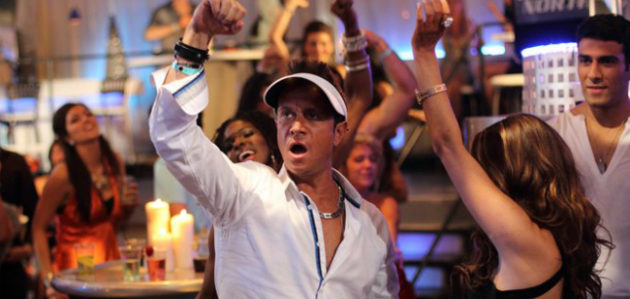 Good news, Pauly Shore fans! Hot on the heels of his recent appearance in last fall's Bucky Larson: Born to Be A Star, the Weasel himself is heading back to the spotlight with a new feature comedy about a Jersey Shore-style guido wrongly accused of murder who's forced to hide out in the country, where he develops a knack for bootlegging moonshine. It's called -- simply, poetically -- Whiskey Business. What's that? Tell you MORE??

Developed by CMT and airing March 25 on the cable network, Whiskey Business sees Shore pile on the fake tanner and douchebag airs as "Nicky, (Pauly Shore), the son of New Jersey's most powerful crime boss. Nicky is supposed to follow in his father's footsteps, but he'd much rather DJ and mix cocktails at a local club." Who wouldn't?
"When Nicky is framed for murder he didn't commit, he goes on the run to escape the law and ends up in a small Tennessee town where he sticks out like a sore thumb. Nicky brings some Jersey Shore to the Deep South and is treated with Southern Hospitality and is befriended by a cast of characters, including country cougar Trina (Tanya Tucker). At first Nicky is as suspicious of the townspeople's moonshine as they are of his fake tan, but he soon bonds with the residents to take down Gilly (John Schneider), the town's corrupt sheriff."
I know what you're thinking: How have we survived this long as a people without a movie called Whiskey Business, let alone the historical meeting of the MTV-spawned Pauly and Jersey Shores? (Fun fact: There is one movie listed on IMDb about wacky pet shenanigans called Frisky Business and another involving naughty bondage, but no other Whiskey Business to date.) I don't know, either, but I do know that these behind-the-scenes photos and stills Shore posted to his Facebook fan page during filming (including the Saddest. Fist bump. Ever.) only make this even more of a must-DVR occasion.
In a press release, Mary Beth Cunin, SVP Programming Strategy at CMT, explained the move to produce an original Shore vehicle. "Pauly Shore is a CMT fan-favorite and we're thrilled to be in business with him on this movie... Pauly's movie Son In Law is one of CMT's top performers, so to find a new vehicle to showcase his talent and popularity is an exciting opportunity."
Ah, Son in Law. Suddenly it all makes even more sense. Looks like Shore's on his way to being "the West Coast's Woody Allen" after all!