Watch Taylor Swift's Hunger Games Music Video: 'Safe & Sound'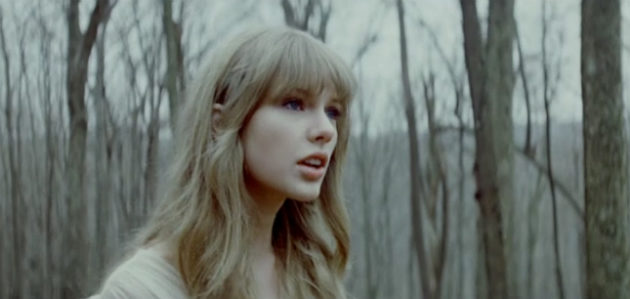 When I first heard Taylor Swift's Hunger Games soundtrack single, the twangy country ballad "Safe & Sound," I wasn't so keen on how Swifty channeled teen heroine Katniss Everdeen, T-Bone Burnett's support or no. (I did, however, dig the gentle melodics of country folk duo The Civil Wars, who back Swift on the song and share songwriting credits with her and Burnett.) Now the music video for the single has debuted, a dreamy nature-themed joint that lovingly follows Swift as she traipses barefoot around the woods sharing meaningful glances with deer and twigs.

While "Safe & Sound" has grown on me as a song, I still can't totally sign off on Swift as a Katniss figure (the lyrics are inspired by Suzanne Collins' book, and suggest the inner life of Katniss as she leaves her family behind in District 12 to fight in the Games). But Swift is lovely to look at, even if this video could easily be passed off as an Anthropologie ad or, you know, a tribute to Cold Mountain.
The backdrop is a nice nod to Katniss's imagined home in the region otherwise known as the Appalachians, where District 12 has been delineated in the nation of Panem in The Hunger Games trilogy. And, look! Swift finds a mockingjay pin in her disheveled country cabin! I'd have loved to have seen Swift pick up a bow and arrow and go hunt down that deer, or hide from intruders in the dirt, or wrassle with a gang of murderous youngsters, but I get it. She's Taylor Swift. She is pristine in her white muslin dress, warbling beautiful melodies all alone in her thoughtful solitude. She is more Primrose than Katniss.
Meanwhile, the shortest stick drawn goes to Joy Williams of The Civil Wars, who's stuck playing third fiddle to Swift. For a full minute I thought she was playing Katniss's mother. Anyways, check it out below and tell us what you think - an appropriate accompaniment to the March 23 pic?
[via MTV]
Previously:
Watch Lana Del Rey's Hunger Games Music Video
Submit Your Hunger Games Haiku For a Chance to Win Tickets to the Premiere
Follow Jen Yamato on Twitter.
Follow Movieline on Twitter.