REVIEW: Star Wars: Ep. I - The Phantom Menace Adds Stunning Third Dimension of Meh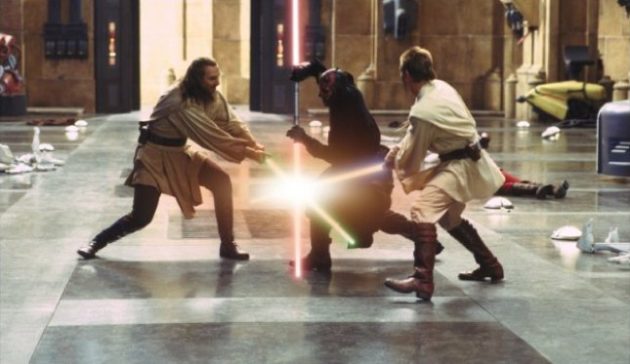 The re-release of The Phantom Menace opens with that exhilarating blast of John Williams's famous theme, the Star Wars title zooming off into the distance in 3-D before the familiar text crawl creeps across the starry backdrop, revealing the words we've all been longing to see back on the big screen:

"Turmoil has engulfed the Galactic Republic. The taxation of trade routes to outlying star systems is in dispute."
Ah, yes. Rewatching this film (for me, the first time since it opened in theaters over a dozen years ago) really makes you admire the gutsiness of returning to one of the most beloved franchises of all time only to open with stalled galactic taxation negotiations. It takes you back, like some three dimensional Proustian sci-fi madeleine, to that feeling of slow deflation shared by so many back in 1999 as they fought to keep up their levels of enthusiasm as Episode I herked and jerked along. As an admirer of select Star Wars films but no serious devotee of the series, I don't have quite the complicated relationship with George Lucas experienced by some fans, the emotional complexity of which is generally only otherwise seen in memoirists writing lyric essays about their loving but abusive fathers. And from a business perspective, the Star Wars films are a great candidate for the callous but surely profitable enterprise of transferring classics to 3-D and dumping them back into theaters with pricier tickets. But The Phantom Menace, in any number of dimensions, is an exercise in disappointment, a film filled with enough callbacks to the first trilogy to remind you about what you loved about them without adding much of note in all the new material.
The 3-D looks fine, if subdued enough that you forget about it for long stretches. A few sequences do get a boost -- the fraught journey through a planet's sea monster-heavy core, for instance, and even more so the podracing sequence, which look particularly great in the Anakin's-eye-view shots as camera darts through the rock formations. But 3-D tends to highlight spectacle, and much of The Phantom Menace is anything but: Senate or Jedi council debates, wooden exchanges between Jake Lloyd and Natalie Portman that are meant to indicate some deep (and future romantic) connection, and the parade of bizarrely racialized aliens, including freakin' Jar Jar Binks.
The film features some greatly imaginative worlds and scenarios, from watery Naboo's hidden bubble-encased Gungan cities to the insectile droidekas to Tatooine's ludicrously dangerous sport of choice ("Looks like a few Tusken Raiders have camped out on the canyon dune turn!" as the crowd cheers). Darth Maul (played by Ray Park and voiced by Peter Serafinowicz) still makes a major impression, pacing like a caged tiger during a force field-mandated pause in his duel with Liam Neeson's Qui-Gon Jinn and Ewan McGregor's Obi-Wan Kenobi. Queen Amidala's outfits are still ridiculous and awesome, and Portman's trade-offs with Keira Knightley as the royal bodyguard/stand-in are easier to spot now that the latter's face has become just as familiar.
The rest of The Phantom Menace tends toward the dull -- not always the terrible (though early in the film a lot of the dialogue sounds like a badly dubbed Google translation of something originally written in a language other than English), but the legitimately wan and colorless. The film serves as a feature-length extrusion of exposition for what's to come in later installments, with a few livelier sequences inserted as payoff for sticking around this space opera. It's both a shame and unavoidable that Episode I was re-released first in this planned 3-D roll-out of the entire series, but if you're going to splurge on the extra for a 3-D ticket you might as well wait for A New Hope in 2015. Even if the conversion doesn't add all that much overall to the experience, as is the case here, that one's going to be much more fun to see on the big screen and with a crowd.
Follow Alison Willmore on Twitter.
Follow Movieline on Twitter.