Share Your Best Daniel Radcliffe Mini Fan Fiction, Win a Woman in Black Prize Pack (UPDATED)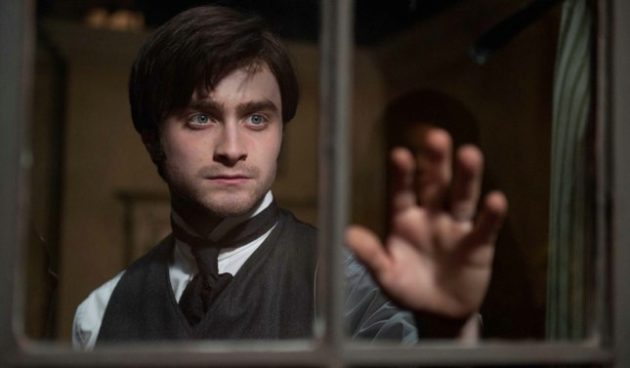 The much-anticipated Daniel Radcliffe ghost-story thriller The Woman in Black opens Feb. 3. This calls for a giveaway! But considering what you stand to win (including an iPod Nano and a signed WIB poster), we're going to make you work for it. (Sort of.) Welcome to Movieline's Daniel Radcliffe Mini Fan Fiction Sweepstakes! [UPDATE 2/2: Contest is now closed -- thanks to all who participated! Scroll down for the winning submission.]

First things first: The prize line-up!
· The Woman in Black black long sleeve t-shirt
· The Woman in Black black short sleeve t-shirt
· The Woman in Black black veil
· The Woman in Black static cling
· The Woman in Black source novel by Susan King
· The Woman in Black branded iPod Nano
· The Woman in Black signed Daniel Radcliffe poster
Hoo boy. Don't ask me how we come across all these things, seriously.
So how does one participate? Simple: Post an original piece of Daniel Radcliffe fan fiction in the comments section below. Follow these basic rules to qualify:
· The fiction must be 100 words or less. Not a word over!
· It must feature Daniel Radcliffe.
· It must include The Woman in Black's tagline, "What did they see?"
· Romantic scenarios are fine, but anything considered especially lewd or obscene will be immediately disqualified and removed from the site.
· It must be previously unpublished. Finalists will be vetted for originality.
· Only one submission per person, please. Make it count.
· The winner must be a U.S. resident.
The deadline to participate is this Thursday, Feb. 2, at 5 p.m. PT. The winner will be judged by Movieline staff on the basis of originality, creativity and how imaginatively the "What did they see?" tagline is deployed. We'll announce and republish the winner on Feb. 3 around noon PT.
Happy writing, and good luck!
[UPDATE 2/2: Contest is now closed. Thanks for playing! Winner will be announced tomorrow, Friday Feb. 3.]
--
UPDATE 2/3: We have a winner! Congrats to Movieliner Martha, whose 100-word fan fic submission captured our imaginations and brought us closer to Woman in Black star Daniel Radcliffe because really, haven't we all been there?
From Martha:
"Daniel Radcliffe was used to the stares at premieres; he wasn't used to the silence. Silence which was quickly turning into whispered snickers. His brows furrowed as he made to push through his security personal to begin the trek down the red carpet, but they wouldn't let him though. He was roughly pushed back into the limo. The door slammed shut. He looked at his hands in his lap in confusion and that's when he saw it. He didn't have on any pants. His last thought was 'What did they see?' before his alarm went off and startled him awake."
Congrats, Martha - and thanks to all of our ML wordsmiths for playing!