REVIEW: The Woman in Black Is a Bleak Victorian Ghost Story, Offered with a Wink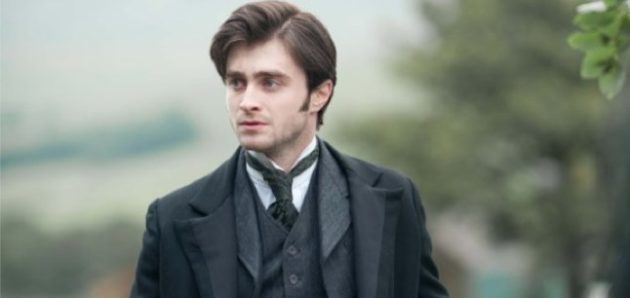 The pleasures of the period ghost story The Woman in Black are something like the creepy shiver of delight you get from Edward Gorey's illustrated poem  The Gashlycrumb Tinies, which describes horrific deaths suffered by innocents of yore ("I is for Ida who drowned in a lake/J is for James who took lye by mistake"), accompanied by heavily crosshatched drawings of wan moppets wearing black cotton stockings and mournful expressions. Terrible things happen in The Woman in Black: Children are snatched from their parents by the Grim Reaper, nurseries become insane asylums and numerous unseen nasties go bump in the night. But director James Watkins has just the right touch with the polishing cloth: The picture has the soft, dark gleam of a piece of Victorian mourning jewelry, and its gloom is always offered with a wink.

Daniel Radcliffe plays Arthur Kipps, an unhappy widowed lawyer who leaves his young son behind in London for a week to head out to the country, where he needs to wrap up the paperwork on an estate whose owner has recently died. His son will join him at the end of the week for a little holiday, though it quickly becomes apparent that that's not such a good idea. En route by train to the village, Arthur meets one of the townspeople, Mr. Daily (Ciarán Hinds, whose half-jovial, half-haunted face was clearly invented by God to appear in just these sorts of ghost stories). Daily offers, a bit cautiously, to be of assistance. He also cautions Arthur that he'll never find a local buyer for the house, and you can bet that termites or your garden-variety black mold aren't the problem.
In that town, Arthur finds a world of grief: Daily, it turns out, lost his own child many years ago, and his wife (played by a marvelously unhinged  Janet McTeer) lavishes all sorts of motherly love on twin Pomeranian-types. (It's hard to tell exactly what kind of dog they are beneath their tiny matching sailor outfits.) Worse yet, child-related tragedies begin to escalate in the village after Arthur's arrival. Clearly, he's stirred something – or a being who was formerly a someone – into a state of agitation, and whatever-it-is has decided to wreak vengeance upon the village's little ones.
Watkins clues us in to that specter's dark power, if not her motives, in the movie's opening scene, a poetic reverie in which a trio of little girls host a tea party for their dolls in an upstairs nursery, before being drawn, zombielike, toward the open window: They move toward it as if in a dream, crushing teacups and china doll heads alike under their little high-button boots. The story, one of motherly vengeance and madness, is adapted from Susan Hill's 1982 novel of the same name (the screenwriter is Jane Goldman), and Watkins navigates its wriggly emotional hairpin turns with ease. That's not to say The Woman in Black isn't predictable. Of course it is! The screening audience with which I saw the movie hooted knowingly when Arthur tells Daily that he's going to stay up all night, in what we can clearly see is a forlorn, deadly house, to finish up his paperwork. But that's part of the plan – Watkins is clued in to the delicious obviousness of it all.
And whether or not the movie surprises or scares you, there's plenty of genuinely creepy stuff: A caged bird that mimics a woman's weeping, a series of letters graced with increasingly indecipherable handwriting that blatantly suggest a descent into madness, a troupe of mechanical toy monkeys with all-seeing, all-knowing eyes keeping watch over a troubled nursery. Some of the details could be more authentic or more intricate: The bisque dolls that dot the movie's decor are definitely of the modern, made-in-China variety, not the old-time German numbers that are guaranteed to scare the living daylights out of you, particularly if their eyelashes have been nibbled off by mice. But I digress. And though most of the scare effects have been fashioned with care and thought, a few fall flat: One ghost figure clearly appears to be sliding on some sort of track, an effect that's little too Jaycees' haunted house for my taste.
But Watkins gets the mood right, which is the major thing. He previously directed the 2008 thriller Eden Lake (with Michael Fassbender), and co-wrote the 2002 My Little Eye (which I haven't seen, though friends tell me it's scary as heck). And he knows what to do with Radcliffe, which is very little: He lets this fine young actor roam through the movie as if he were floating on a cloud composed of equal parts grief and curiosity. Radcliffe's Arthur just can't shake the grief he feels over the loss of his wife, who died in childbirth, but he doesn't play his sorrow as if he were an automaton. Instead, it's a kind of force within him: It's not spelled out, but you understand why he wouldn't run from that old house even after he's met its most unforgettable face, a half-glimpsed white mask with dark buttonholes for eyes. Radcliffe, as an adult, is a deeply sympathetic actor. His Arthur looks at that ghostly face and sees a sort of twin, another being who has also been hollowed out by grief and despair. The difference is that he's motivated by an urge to protect others, not harm them. Radcliffe holds his emotions close, like a pocketwatch, and yet they still register. It's as if he knows what time it is without even looking.

Follow Stephanie Zacharek on Twitter.
Follow Movieline on Twitter.