Topless Actress's Iran Ban Sparks Slightly Icky Solidarity Protest (NSFW)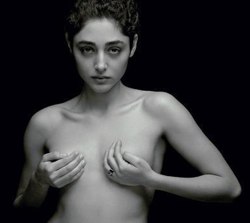 Controversial Iranian actress Golshifteh Farahani was recently banned from her homeland after the French fashion magazine Madame Le Figaro published topless photos of her, thus prompting a support page on Facebook featuring other Iranian activists posing topless or entirely nude. Oy, guys, you're doing it wrong.

I'm all for freedom and would love to see things like A Separation's dual Oscar nominations and Farahani's personal choices and just basic human rights of filmmakers like Jafar Panahi respected. Yes to all these things!
But let's be honest: If your goal is to raise global awareness with a Facebook page in Farahani's name, then you're probably best off not turning the site into some lo-fi variation on AdultFriendFinder -- which was never especially hi-fi to begin with. (Click the image at right for a NSFW look.) I doubt that the conservative-minded leaderships of both Facebook and Iran will be down with this, and then what? We're right back where we started.
Anyway, the page is currently hovering around 3,500 likes. I'd lend it some #ConsiderUggie juice, but he's nude in his photos, too, so hey. Anyone want to volunteer a more persuasive approach?
[via TheWrap]