Surprise! Vanity Fair Prefers White People for Hollywood Issue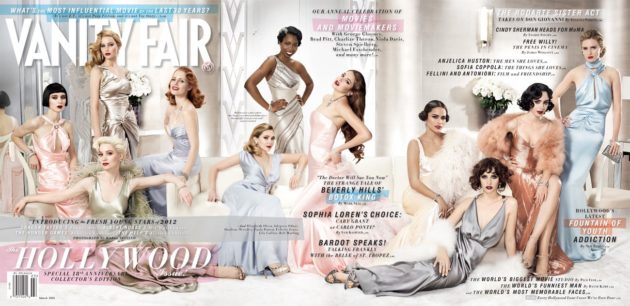 Let's see, what day is it? Jan. 31? Oh, then it must be time for everyone to fulminate over the Vanity Fair Hollywood Issue, specifically its lack of diversity among the featured cover stars. It's a seasonal ritual almost as inviolable as Groundhog Day, with equally severe implications of who made the cover (and where). To wit, a lot of white chicks. Cue six more weeks of winter! At least in the grocery checkout aisle, anyway.

It's hard for me to get exercised about this tradition anymore -- especially in 2012, after so many years of black, Asian, Latino and other young talent of color being routinely nudged aside for the likes of... Lily Collins. Of course, let's be fair: Pariah star Adepero Oduye is in the center of the spread's second page, and Paula Patton is there on the third page. And if we think of breakthrough actresses of color whom VF missed and should have included, it's kind of a short list, isn't it? As in: I can't think of any off the top of my head. Which likely says more about Hollywood and/or me than about VF. Kind of. Placement is placement.
Anyway, suggestions welcome! And: I'm fully expecting Viola Davis on next month's cover to coincide with her imminent Best Actress Oscar win.