'I FINK U FREEKY:' Can We Please Get Die Antwoord's Yo-Landi a Movie?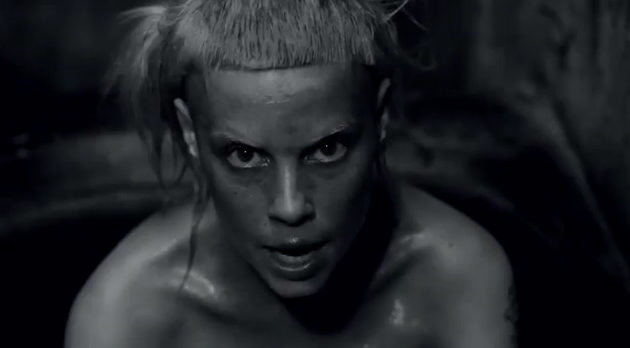 David Fincher might never have actually entertained the thought of casting Yo-Landi Vi$$er of South African zef rap duo Die Antwoord as his Girl with the Dragon Tattoo (at most, she seems to have been a rabid pixie style icon for Rooney Mara's Oscar-nommed take on Lisbeth Salander), but how much more twisted and subversive might the diminutive Visser have been in the role, tasering old pervs and getting dirty in the "Feel-Bad Movie of the Year?" Watch the video for Die Antwoord's latest grime jam, "I Fink U Freeky," and let's brainstorm ways to make Yo-Landi's movie career happen, already.


In the video, Yo-Landi takes front and center warbling the mantra "I fink u freeky (and I like you a lot)" while partner and music video co-director Ninja busts his own rhyme and unleashes a furious flurry of dance moves with some unusual cohorts. (Johannesburg-based photographer Roger Ballen shares directing credit with Ninja and lends the proceedings his signature black and white aesthetic.) As in most of their oeuvre, the pair embrace the idea of freakishness with relish.
Yo-Landi in particular presents various aspects of her persona: Alien she-creature, weirdo South African Gothic homemaker, urban tribeswoman, newspaper cosplayer, coy 21st century cavewoman. The lady's a chameleon!
Now, I caught Die Antwoord's wheelchair gangsta short Umshini Wam at SXSW and there's word they're planning their own feature film called The Answer, described as "a high-energy, totally next-level, rap-rave feature film ... [akin to] District 9, but just with more rave and more rap." I say, why stop there? Off the bat, I picture Yo-Landi in a Species reboot. An urban comedy. Heck, dress her up in Michelle Williams' pioneer duds for Meek's Cutoff 2 and she'd make it riveting. I'd watch it.
[Hat tip to @matthewfong]