6 Takeaways From the DGA and SAG Awards Weekend
The most demoralizing awards season in recent memory continued over the weekend, with the Directors Guild and the Screen Actors Guild handing out their hardware to pretty much everyone you expected to receive it. I'll factor all this into Oscar Index on Wednesday for a complete-race breakdown, but here are the five basic takeaways worth keeping in mind:

1. The Artist is not coming back.
Michel Hazanavicius's DGA win for Best Director, paired with last weekend's Producers Guild win for Best Picture, all but cements The Artist's standing as the thoroughbred way, way out in front of the Oscar pack. It isn't about to slow up, either; the most that the teams behind such films as The Descendants, The Help and Hugo can hope for is that their principals cure cancer this week. And even that might not be enough goodwill to ratchet up their momentum.
2. Michel Hazanavicius/Tom Hooper/Quentin Tarantino are to 2012 what Robert Rodriguez/Kevin Smith/Quentin Tarantino were to 1994.
If mellow is what wins, then Harvey Weinstein will give awards voters mellow. He's about to go two-for-two with this (mostly) new stable of directorial talent, having previously made nominees of Tarantino and (ahem) Stephen Daldry. Next up in 2013, it's Tarantino again with Django Unchained and Paul Thomas Anderson perhaps giving us back some edge as well with his new one. But mostly just look for Harvey to continue making whatever myths he can in the perennial quest to bolster his own.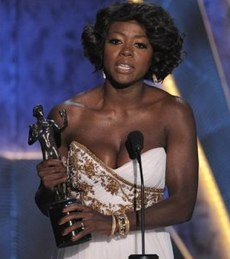 3. Bank on Viola Davis.
It's not so much the precursors won -- her SAG and Critics Choice awards for Best Actress, for example -- that now have her ahead of Meryl Streep in the Oscar race. It's her extraordinary class and grace and humility in accepting her plaudits -- her belief in her work, her colleagues, and the power of what they created. Only the Artist gang has really shown any ability to match that, and thus look for both to be rewarded next month with the majority of the Academy's top prizes -- including...
4. Jean Dujardin should pull through.
I don't know what surveys or rankings some experts were reading that made Dujardin's SAG win on Sunday an "upset." Movieline's Institute for the Advanced Study of Kudos Forensics has had the guy tracking in the lead for two months now, with Clooney only recently pulling even after the Golden Globes. Now Dujardin returns to the solo lead, probably for good. Big deal.
5. The Academy embarrassed itself nominating Glenn Close.
I don't have much outrage left about this year's Oscar class, but just watching another goddamn tired Albert Nobbs clip and seeing Tilda Swinton's gracious recognition of her own SAG nomination and thinking about Swinton and Charlize Theron and Kirsten Dunst and Elizabeth Olsen and at least three or four other actresses more worthy of Close's Oscar nomination and what could have been had me so irretrievably embittered all over again. What a bunch of bozos we've built this beat around. Or maybe we're the bozos. Either way, it's a waste.
6. It won't get any better next year.
Who's ready for the great John Hawkes (The Surrogate)/Daniel Day Lewis (Lincoln) battle of 2013? I said, who's ready -- enh, forget it.
And for the record, find the complete list of SAG motion picture award winners below. Congrats to all!
18th ANNUAL SCREEN ACTORS GUILD AWARDS® RECIPIENTS
THEATRICAL MOTION PICTURES
Outstanding Performance by a Male Actor in a Leading Role
JEAN DUJARDIN / George - "THE ARTIST" (The Weinstein Company)
Outstanding Performance by a Female Actor in a Leading Role
VIOLA DAVIS / Aibileen Clark - "THE HELP" (DreamWorks Pictures / Touchstone Pictures)
Outstanding Performance by a Male Actor in a Supporting Role
CHRISTOPHER PLUMMER / Hal - "BEGINNERS" (Focus Features)
Outstanding Performance by a Female Actor in a Supporting Role
OCTAVIA SPENCER / Minny Jackson - "THE HELP" (DreamWorks Pictures / Touchstone Pictures)
Outstanding Performance by a Cast in a Motion Picture
THE HELP (DreamWorks Pictures / Touchstone Pictures)
JESSICA CHASTAIN / Celia Foote
VIOLA DAVIS / Aibileen Clark
BRYCE DALLAS HOWARD / Hilly Holbrook
ALLISON JANNEY / Charlotte Phelan
CHRIS LOWELL / Stuart Whitworth
AHNA O'REILLY / Elizabeth Leefolt
SISSY SPACEK / Missus Walters
OCTAVIA SPENCER / Minny Jackson
MARY STEENBURGEN / Elaine Stein
EMMA STONE / Skeeter Phelan
CICELY TYSON / Constantine Jefferson
MIKE VOGEL / Johnny Foote
Follow S.T. VanAirsdale on Twitter.
Follow Movieline on Twitter.