Hey, Kids: Bridesmaids Cast to Present at Oscars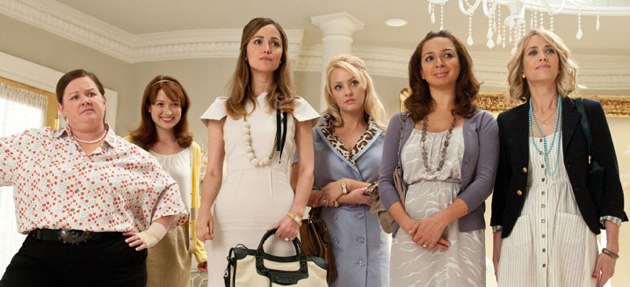 This year's Oscars may have average nominee ages of 47, 61 and 62 in such categories as Actor, Director and Supporting Actor (respectively), but trust producers Brian Grazer and Don Mischer to rope in the youngs where they can. To wit: If the Academy won't nominate the four-quadrant blockbuster
Bridesmaids
for Best Picture, then at least the cast can drop by to present an award.
Hence
this morning's news
from AMPAS:
Six actresses – Rose Byrne, Ellie Kemper, Melissa McCarthy, Wendi McLendon-Covey, Maya Rudolph and Kristen Wiig – from the hit comedy Bridesmaids will be presenters at the 84th Academy Awards, telecast producers Brian Grazer and Don Mischer announced today. McCarthy received her first Oscar nomination this year for her supporting role in the film, and Wiig also became a first-time nominee for the film's original screenplay. All six will be making their first Oscar show appearances.
No word yet on which category they'll present or how Bruce Vilanch will work very relevant and timely sink-defecation jokes into their shtick. Suggestions welcome below.
[AMPAS]